How do I Make Blood Sausage?
Blood sausage is the name for a variety of sausages. They are united by the inclusion of animal blood in the filling mixture. These sausages are easy to make at home, if you can procure the ingredients. Simply combine the blood with seasonings and stuff sausage casings using the mix. After you prepare the sausages and boil them, you can keep them refrigerated for a few days before cooking and serving them.
The ingredient that gives the dish its name is essential to the taste of the sausage. It is not always easy to procure, however. Merchants in the United States are prohibited from selling blood from some types of animals, including pigs, but pork blood sausage is a common item in many countries. You can substitute legal blood for the banned varieties. For example, many find cow blood to be an acceptable substitute for pig's blood in traditional recipes.
Before you use the blood, you must prepare the other ingredients. One important component is boiled grain, such as barley, which adds texture to the finished sausages. Each recipe has its own blend of flavorings. Often, the mix has sautéed onions and spices, which can include cinnamon, allspice and cardamom. Some varieties of blood sausage have meat in them for added flavor; the meat is browned and mixed with the spices and onions.
The next step is the one that is characteristic of this group of sausages: mixing the animal blood into the other ingredients. It is important that the other components of the sausage are cool when you complete this step; otherwise, the blood can thicken prematurely, changing the taste and making the stuffing procedure more difficult. For the best sausages, the blood should remain liquid until after the sausage casings are filled. Add enough blood to create a pourable mix.
These sausages are among the easiest varieties to make at home because of their stuffing procedure. You do not need a sausage stuffer; all that is required is a funnel. Wash and soak your sausage casings, and then pour the filling into them through the funnel. Leave room inside the casings for the sausages to expand, and tie them off. Boil them before storing, and roast the sausages in the oven before serving.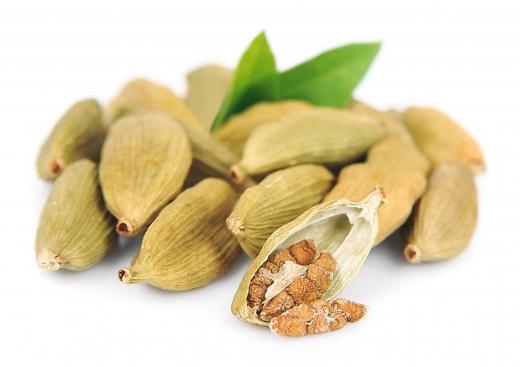 Blood sausage is a common dish at Christmas in Estonia, where it is called verivorstid. In the United States, Estonian immigrants and their descendants gather around the holidays to celebrate their culture by preparing sausages. The dish is also frequently found in other cultures; German has a variety of names for the different types of blood sausage, including Blutwurst, Rotwurst and Speckblutwurst. Further, many cultures have black pudding or blood pudding, which are also made with animal blood, that they eat at Christmas.
AS FEATURED ON:
AS FEATURED ON:








Barley is often included in blood sausage.

Blood sausage.

By: Henryk Falkiewicz

Blood sausage.

By: margo555

In many places, cardamom is used to flavor blood sausage.