In Bartending, what is a Virgin Mary?
A Virgin Mary is a non-alcoholic drink made with tomato juice and an assortment of spices, and garnished with vegetables. Many bartenders have their own unique versions of the Virgin Mary, running the gamut from mildly spiced versions which contain little more than tomato juice and celery salt to more elaborate concoctions with ingredients like chilies and horseradish. By convention, Virgin Marys are served until around 6:00 PM; they are not considered appropriate nighttime cocktails in most parts of the world.
The alcoholic version of a Virgin Mary is a Bloody Mary, made with the addition of vodka. There are numerous versions of the Bloody Mary, made with an assortment of different alcohols, including gin, rum, and sherry. The Bloody Mary appears to have emerged around the 1930s or 1940s, and it has become a popular cult icon in some parts of the world. The drink is certainly easy to spot, since it has a distinctive red color and thick texture which sets it apart. For people who prefer non-alcoholic drinks but don't want to make a fuss about it, a Virgin Mary can be handy because it looks like a Bloody Mary at first glance, allowing the consumer to blend in with people who are drinking alcohol.
Like a Bloody Mary, a Virgin Mary is usually prepared in a highball glass. The bartender first puts in a layer of ice, and then adds seasoning. Some common seasonings include: grated horseradish, lime juice, pepper, celery salt, Tabasco, Worcestershire sauce, chilies, clam juice, and lemon juice, though not necessarily all together. Tomato juice is poured on top and the drink is stirred before being garnished.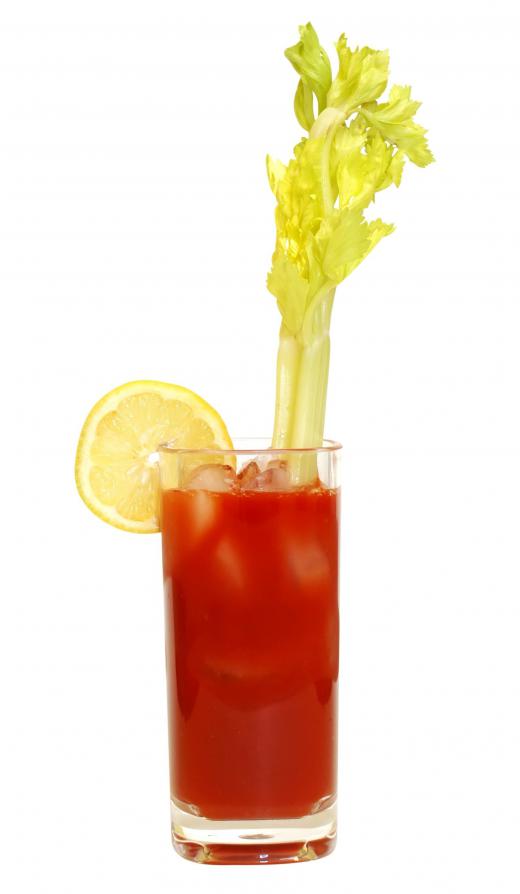 The traditional garnish for a Virgin Mary is a celery stalk, but some bartenders veer into the realm of the fantastic when they garnish their Virgin Marys. Assortments of vegetables such as carrots, pickles, radishes, and cucumbers, may be used, and sometimes bartenders add ingredients like cheese as well. It is also not unusual to see carved garnishes, or garnishes which are arranged like miniature sculptures on a cocktail pick.
For people who are not interested in mixing their own drinks, it is possible to purchase pre-seasoned Bloody Mary mix which can be served over ice as a Virgin Mary. Bloody Mary mix may be perfectly acceptable as-is, or one can add some spices to adjust the flavor as desired. Remember to keep tomato juice or Bloody Mary mix chilled after it has been opened, to ensure that it stays safe to consume.
AS FEATURED ON:
AS FEATURED ON:








By: dla4

The alcoholic version of a Virgin Mary is a Bloody Mary, which contains vodka.

By: Danny Hooks

In a Virgin Mary, tomato juice is mixed with spices and garnished with vegetables.

By: andersphoto

A celery stalk is a common garnish for a Virgin Mary.