Many cookies are thin affairs, in round or cut-out shapes, but bar cookies have a different appearance and may offer a vast variety of textures. The bar cookie is simply cookies made in a single pan and cut into bars afterwards, and many of these are quite popular. Some simple bar cookies, like the brownie, are some of the most popular cookies because they have a delicious flavor and are easy to make. Not all bars are this easy and a number of cookies that are turned into bars require multiple steps, though the results tend to be worth the work.
Many people wonder if a basic cookie recipe can be turned into a bar to save all that spooning or molding that occurs when making traditional separated cookies. A few recipes adapt well to this technique, but the end results aren't quite as good as true bar cookie recipes. Bar cookies tend to be moister, which usually means adding extra eggs or shortening that are lacking in traditional cookie recipes. Many people do like the results when the average chocolate chip cookie is made in bar form, but others find these cookies a little dry.
Recipes for true bar cookies will avoid this dryness, and in addition to the aforementioned popular brownies there are numerous cookies that are in bar form. Applesauce bars with a little spice can be thinly frosted with penuche or brown sugar icing for a delicious bar. Peanut butter bars with chocolate chips are a popular recipe, and with enough oil avoid the dryness of the simple chocolate chip cookie recipe. Blondies are a brown sugar flavored variant of brownies that are just perfect for those people who don't care for chocolate.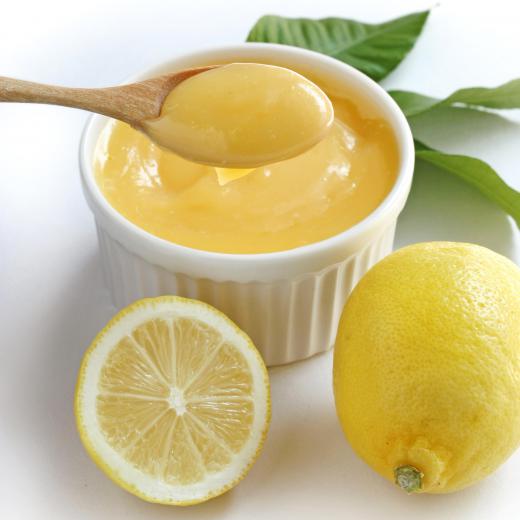 Making bar cookies might focus on creating an easy to hold health food. It's possible to make granola bars or trail mix bars of baked and no-bake varieties. These can be sliced into appropriate proportions, and some of them can even be frozen for later use.
Bar cookies can bear similarity to tarts and pastries, featuring layers for different textures. Many of these start with a shortbread base. One favorite is the toffee cookie, which has a layer of sugar and nuts heated to boiling, and then poured onto partially baked shortbread. After a few more minutes in the oven, the cookie is removed, and chocolate chips are added, which melt and are spread across the bar. The melted chocolate is topped with toasted almonds, pecans, or walnuts, and when fully cooled, the cookie is reminiscent of English toffee.
Another of the bar cookies that utilizes the shortbread layer, is the elegant lemon bar, which is topped off with lemon curd or lemon filling, similar to the filling of a lemon meringue pie. They're quite popular to serve at teas, and the fact that they can be picked up and eaten makes them a great alternative to serving cakes or pies.
AS FEATURED ON:
AS FEATURED ON:








By: rimglow

Applesauce, which can be used to make bar cookies.

By: uckyo

Lemon curd, which can be used to top lemon bars.

By: dinostock

Walnuts are a common addition to bar cookies.

By: Sergii Moscaliuk

Honey can be substituted for white and brown sugar when making bar cookies.

By: baibaz

Granola bars can be made of cookie recipes like oatmeal chocolate chip.