Sugar cookies are tender cookies with crisp edges made from a very basic dough which is easy to manipulate with added ingredients for cooks who get bored of the simple flavor of the original sugar cookie. These simple cookies are associated with the holidays for many people. Since the dough is designed to be rolled out and cut into shapes with cookie cutters, cooks can create an assortment of holiday cookies and decorate them with frosting and candy. Many bakeries carry sugar cookies, for people who do not want to make them at home.
The earliest form of the sugar cookie probably originated in the medieval Arab world, when cooks made sweet cakes with sugar, flour, and shortening. These cakes spread across Europe, and they were carried to the New World with European settlers. Around the 1700s, the modern form of the sugar cookie emerged in Nazareth, Pennsylvania, where German settlers made cookies which came to be known as Nazareth sugar cookies.
To make sugar cookies, sift together three and one half cups flour, one teaspoon baking powder, and one quarter teaspoon salt, and set aside. In a large bowl, beat one cup of butter and then blend in one and one half cups of sugar. Beat two eggs and two teaspoons of vanilla into the butter and sugar mixture, and then mix in the dry ingredients. The resulting stiff dough should be refrigerated to make it easier to work before you roll it out.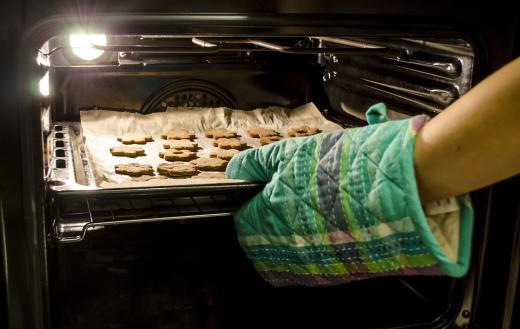 Once the dough has been chilled, you can break it into manageable chunks and roll it out on a lightly floured surface. Use your cookie cutters of choice to cut out shapes in the dough, and bake your cookies on an unoiled baking sheet at 350 degrees Fahrenheit (177 degrees Celsius) until the edges start to brown. Cool the cookies on racks and frost as desired or serve plain.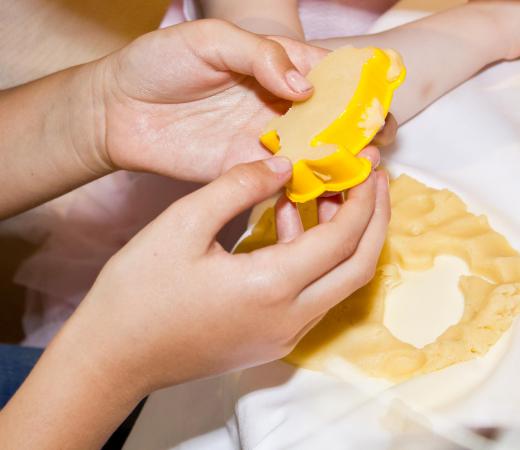 One common problem with sugar cookies is that frosting can make them slightly soggy, especially if they sit for several days before they are eaten. You may find that royal icing forms a lighter crust which does not turn the cookies mushy. It is made with two egg whites, two teaspoons of lemon juice, and three cups of powdered sugar; you can separate the icing into small bowls after it is mixed and use food coloring to create colored icings.
In addition to making basic sugar cookie dough, you can make spicy sugar cookies by adding ingredients like ginger, nutmeg, and cinnamon, or you can add things like crushed nuts for a more rich, nutty flavor. The basic sugar cookie dough is quite forgiving of small changes and manipulations, like substituting orange or almond extract for the vanilla, so feel free to experiment with it.
AS FEATURED ON:
AS FEATURED ON:








By: sumire8

A basic sugar cookie recipe uses one and a half cups of sugar.

By: Gajus

Sugar cookies should be placed on an unoiled baking sheet and baked at 350 until the edges start to brown.

By: 0635925410

Cookie cutters are often used to create sugar cookies of various sizes and shapes.

By: Globalphotogroup

Holiday sugar cookies are typically frosted and decorated.