Bavarian mints are difficult to describe without affording an opportunity to taste first. Simply put, Bavarian mints are pieces of chocolate with a mint taste. Not to be confused with ordinary chocolate mints, Bavarian mints are creamy in taste and texture, not hard, and ideally contain a perfect balance of mint and chocolate flavoring. Bavarian mints are a type of candy that literally melts in your mouth.
Manufactured Bavarian mints typically come in either milk or dark chocolate varieties. Homemade recipes can be any variety and generally call for inclusion of sweetened condensed milk, which attributes to the candy's creaminess. Either variety can be found very palatable for those who enjoy a blend of mint and chocolate. One of the most popular Bavarian mints ever sold were manufactured by the House of Bauer. Though ownership has changed hands, these Bavarian mints are still in production.
Unlike thin mints, which are flat and usually layered, Bavarian mints are thicker pieces of candy that are usually cube shaped. The ingredients in Bavarian mints are mixed together rather than layered, which makes each bite a balanced blend of creamy chocolate and mint. The mint flavoring in Bavarian mints is distinct, but not strong and should be distinguishable from the chocolate taste.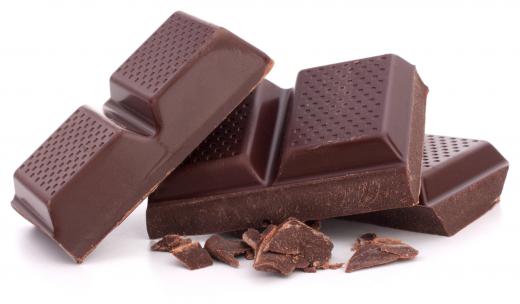 Many different versions of Bavarian mint recipes exist, but only by experimentation can one find just the right one for their individual taste. The most consistent ingredients include chocolate, sweetened condensed milk, peppermint flavoring, butter and vanilla extract. Choosing to use sweet or semi-sweet chocolate, milk or dark chocolate, is all a matter of personal preference.
The process of making homemade Bavarian mints requires a double boiler and a baking dish. With the selected ingredients chosen and melted in a double boiler, they are poured into a pan for cooling and then later cut into small squares. You can choose from a variety of recipes in any number of candy cookbooks or from an abundance of online sources. Similarly, you can choose to use the mixture for Bavarian mints in different ways. For example, by pouring the mixture into a larger pan for a thinner layer, you can use small cookie cutters to create decoratively shaped Bavarian mints for special occasions.
Bavarian mints are certainly a preferred taste. If you enjoy the combination of chocolate and mint in ice cream and cookies, you will most assuredly enjoy Bavarian mints – whether you make them from scratch or purchase a box of manufactured ones. Not all chocolate manufacturers make Bavarian mints, but many do, so check with your favorite if you'd like to order.
AS FEATURED ON:
AS FEATURED ON:








By: HD Connelly

All Bavarian mints contain vanilla extract.

By: Natika

Bavarian mints may be made using milk chocolate.