There are actually two separate entities commonly referred to as Thin Mints. One is a soft mint-flavored candy disk enrobed in chocolate, and the other is a hard chocolate-coated cookie flavored with mint oil and dark cocoa. The candy called Thin Mints is primarily produced by Haviland, a division of the Necco candy company. The dark chocolate cookie Thin Mints, however, are produced by various bakeries authorized by the Girl Scouts of the USA, Inc.
Many Americans are familiar with the Girls Scouts of America's annual fundraising sale of Girl Scout cookies. These boxes of cookies have become nearly iconic, from the peanut buttery Tagalongs to the coconut-and-caramel flavored Samoas. Although not officially introduced as a Girl Scout cookie until 1951, the Thin Mints brand alone now accounts for over 25% of total sales.
Thin Mints begin as a thin, round cookie wafer made with a dark cocoa blend and pure peppermint oil. The cookies are baked in industrial ovens and then allowed to cool before being enrobed in a thin layer of dark chocolate. The finished Thin Mints are packaged in distinctive boxes which reflect many aspects of the Girl Scouts organization. Each box generally contains two sleeves of cookies, although the actual cookie count can vary from year to year according to economic conditions.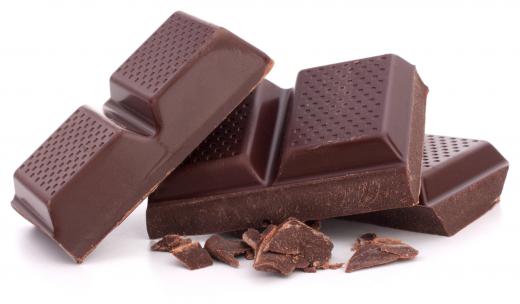 The popularity of Thin Mints may be partly due to their versatility as both snack cookies and baking ingredients. Crumbled Thin Mints are popular toppings for ice cream sundaes and other desserts, while whole Thin Mints are especially popular when accompanied by a glass of cold milk or hot tea. For many consumers, Thin Mints are the quintessential Girl Scout cookie, largely unchanged since 1951. It is not unusual for Girl Scout cookie customers to order a box of Thin Mints first, then decide among the remaining varieties.
There are several recipes available for homemade versions of Thin Mints, although the original formula has proven notoriously difficult to duplicate. Some recipes even suggest using paraffin wax or other unusual additives in order to achieve the wax-like consistency of the outer chocolate layer. It can also be challenging for home bakers to duplicate the crispness and rich chocolate flavor of the inner wafer. Commercial bakeries such as Little Brownie Bakers and ABC Bakers are under license to produce official Girl Scout cookies, and must agree to produce a sufficient number of Thin Mints to meet the demand.
AS FEATURED ON:
AS FEATURED ON:








By: Elenathewise

Thin Mints are often enjoyed with a cold glass of milk.

By: Natika

Thin mints are mint-flavored cookies coated in chocolate.

By: Warren Goldswain

Thin mints may be enjoyed with hot tea.