Bitterballen, also called Dutch dippers, are a traditional staple of Dutch cuisine. They are roughly equivalent to meatballs or croquettes, but are deep-fried rather than pan-fried or baked. Considered a snack rather than a meal, these meat-based savories often appear on pub menus or on traditional menus as appetizers and may be served as hors d'oeuvres at parties and festivals.
There are a number of variations on the basic recipe, but in general, bitterballen are comprised of a ragout of meat, beef broth, flour, butter, parsley, salt and pepper. The meat is traditionally beef, but may be veal or chicken, and is either minced or chopped. Common recipe additives include nutmeg, Worcestershire sauce, lemon juice, onion, mushrooms, diced carrot and curry powder. All ingredients are cooked together, then refrigerated until the mixture becomes firm.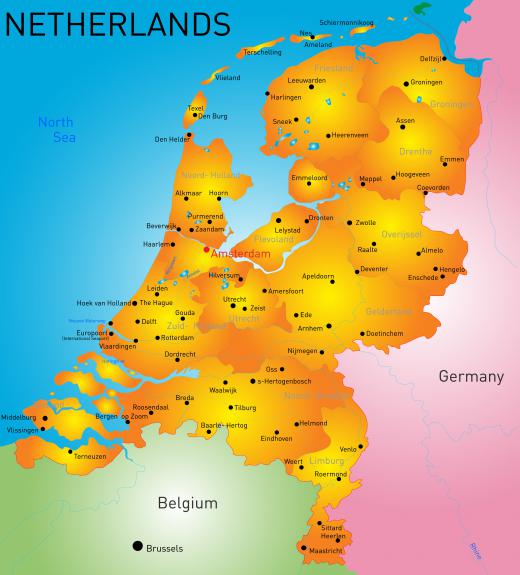 Once workable, the meat mixture is rolled into balls and coated in a mixture of egg, milk and breadcrumbs. The bitterballen are then deep fried in fat or oil until crisp and brown and served hot. They are usually accompanied by a mustard dipping sauce. The recipe is almost identical to another Dutch snack staple called kroketten. The only difference is that kroketten are sausage-shaped while bitterballen are round.
Strong indicators exist that this dish developed in the same way that many recipes developed: as a way to use up leftovers, such as roast ox. The leftover meat was mixed with broth and bread to make a stew. During the Spanish occupation of the late 1500s and early 1600s, it is said that Spanish soldiers adopted the dish and began breading and frying the mixture into an early version of bitterballen. The first modern bitterbal is said to have been made by pub owner Jan Barendzbe's wife and introduced to bar patrons at his establishment.
The name of the dish literally means "bitter ball." This is not an indicator of the taste, but rather of the fact that these snacks were intended to be served with a bittertje, a small glass of a Dutch liquor somewhat similar to gin. They remain a popular accompaniment to alcoholic beverages in pubs and bars.
Traditionally, the dish appears only in locations that have a significant Dutch population, such as the Netherlands, the Netherlands Antilles, Indonesia, Belgium and Suriname. The emergence of Dutch cuisine in the international arena, however, has led to a flurry of recipe variations on Internet cooking sites. The dish has also been made on television cooking shows.
AS FEATURED ON:
AS FEATURED ON:








By: Ruslan Olinchuk

Bitterballen appears only in the Netherlands and other locations that have a significant Dutch population, such as the the Netherlands Antilles, Indonesia, Belgium and Suriname.

By: focha

Bitterballen may be made with minced beef, chicken, or veal meat.

By: Brent Hofacker

In the Netherlands, bitterballen snacks are often served alongside beer.

By: robynmac

Mushrooms are a common additive when making bitterballen.