Fritessaus is a type of Dutch cuisine that is eaten along with French fries, also called frites. It consists of a dipping sauce that looks similar to mayonnaise. The flavor of this sauce is very tangy, but not spicy. It has a smooth yet thick consistency.
In Belgium, French fries are served in a cone made of waxed paper. A restaurant might then give customers a small container of fritessaus along with a plastic fork. This sauce might also come in small packets. The frites are often dipped into the sauce with the fork rather than being eaten with fingers.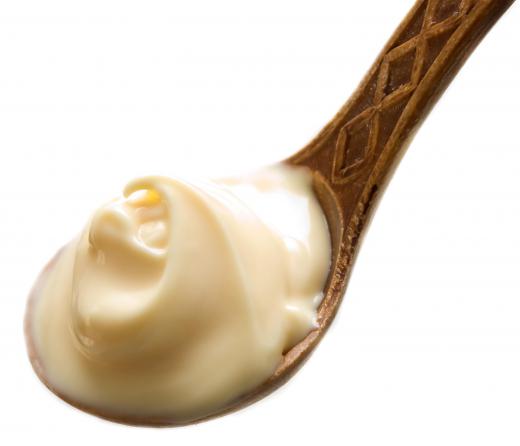 Fritessaus might also come in a squirt bottle or be placed in a container with a pump. In this instance, the sauce can be squirted onto the French fries much like ketchup. Even though this condiment is very thick, it nonetheless flows easily through a pump or squirt container.
The main ingredient in fritessaus is mayonnaise. Other ingredients often used in this sauce include lemon juice, capers, and anchovies. These are usually finely ground and well blended so the consistency of the dip remains very smooth. The lemon juice gives the dip a somewhat tangy flavor along with an off-white or pale yellow color.
Even though mayonnaise is the main ingredient in fritessaus, this dip has a much lower fat content than mayonnaise. The fat content of this sauce is around 25%, compared to as high as 85% for mayonnaise. People who are concerned about fat content could also prepare the sauce using low-fat mayonnaise.
Although fritessaus is found mainly in Belgium, it is produced in many European countries. Some manufacturers ship this sauce to areas throughout the world. It is generally found in the condiment aisle of supermarkets or in stores that specialize in European cuisine.
This product can be purchased in many different forms. The most common packaging is a squirt bottle that is around 23.5 ounces (.66 kg). It can also be purchased in a round bottle similar to a mayonnaise jar that contains approximately 17 ounces (500 ml). The product can also be found in round tubs or containers with a pump lid.
People who are unable to purchase fritessaus can usually make it at home very easily. This can be done by combining the ingredients in a blender or food processor until well blended and smooth. After eating this sauce, any unused portions should be covered and placed in the refrigerator.
AS FEATURED ON:
AS FEATURED ON:








By: Alexandra

Mayonnaise is the main ingredient in fritessaus.

By: Africa Studio

Fritessaus is typically eaten with french fries.

By: juan35mm

Although fritessaus is found mainly in Belgium, it is produced in many European countries.

By: kab-vision

In addition to mayonnaise, fritessaus is made with capers and lemon juice.

A food processor will be required to make fritessaus.