What Are Boneless Chicken Wings?
Despite their name, boneless chicken wings are not made from actual chicken wings. Instead, they are pieces of breast meat that are breaded before being cooked and then tossed in a sauce. They might be served with a dipping sauce as well as raw vegetables. Many people eat this dish as a substitute for Buffalo chicken wings.
Chicken wings have been a longtime favorite snack food eaten at bars, at pizza joints and during sporting events. Since being introduced in 1964, Buffalo chicken wings have become increasingly popular. A traditional Buffalo chicken wing is deep fried and tossed in a spicy sauce. The wing is breaded, and then either deep fried or baked to make a crunchy outer coating. The most popular sauce for a boneless wing to be tossed in is a type of spicy sauce, similar to Buffalo sauce, but some chefs and restaurants sell their boneless wings covered in barbecue sauce, an Asian-style sauce or some other unique concoction.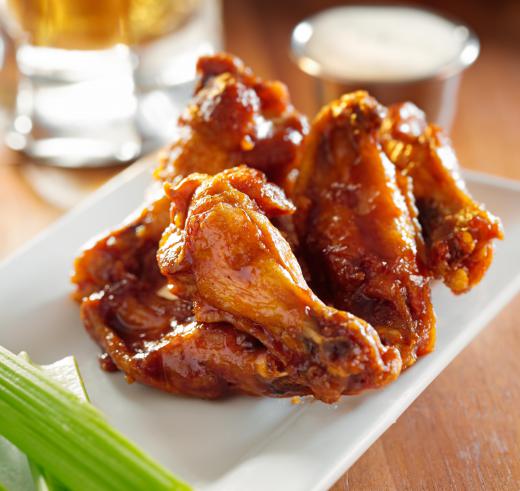 Many people who prefer boneless chicken wings over regular chicken wings believe that they are better than traditional chicken wings in a few ways. Eating a boneless wing is easier and cleaner. There are no bones to worry about, and the chicken can be eaten with a knife and fork, keeping hands clean. The breading on a boneless wing also is very effective at holding the sauce in which it is tossed.
After being tossed in a sauce, boneless chicken wings typically are served with a dipping sauce on the side. The most popular dipping sauces are blue cheese or ranch dressing. Raw vegetables such as carrots and celery might accompany an order of boneless wings.
At a restaurant, this dish is usually sold as snacks or appetizer, but it can be found on some menus as part of an entrée. Boneless wings are available in many restaurants, bars and fast food restaurants. They might be priced per complete order or per piece. Being made from the breast meat makes boneless chicken wings a healthier option than traditional chicken wings. If the boneless wings are baked instead of fried, they are not as crunchy but are lower in fat.
AS FEATURED ON:
AS FEATURED ON:








By: Joshua Resnick

Boneless chicken wings may be served as appetizers.

By: Michael Pettigrew

Many people turn to boneless chicken wings to satisfy late night cravings.