How Do I Choose the Best Breading for Chicken Wings?
Chicken wings are a popular appetizer and snack food because of their relatively low cost and diversity of flavors. Wings can be prepared using different methods, but they are often breaded and baked or deep fried. Several ingredients can be used as breading for chicken wings, depending on the recipe and how the wings will be cooked. Deep-fried wings are typically breaded with seasoned flour and then tossed with sauce after cooking. Baked wings can be coated with a wider variety of ingredients, including flour, bread crumbs and crumbled crackers or cereal.
One of the most popular styles of wing wings is known as Buffalo wings, because they originated in Buffalo, N.Y. Though many Buffalo wing recipes do without breading, seasoned flour is most often used as the breading for chicken wings when Buffalo wings are breaded. Many recipes call for all-purpose flour to be mixed with garlic powder, salt and black pepper. Cayenne pepper may be added to taste, depending on whether the cook wants hotter or milder wings. This breading forms a base of flavor that can be built on by dressing the deep-fried wings in a spicy sauce.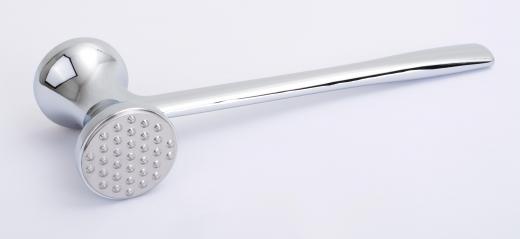 Oven-baked wings may use flour or various types of crumbled ingredients, depending on the recipe. Cooks often use crumbled crackers and various types of breakfast cereals as a breading for chicken wings. The crackers can be placed in a plastic bag and then crushed with the smooth side of a meat mallet, a heavy skillet or a rolling pin. The crushed cracker crumbs are then mixed with seasonings such as salt and pepper. Before baking, the wings are placed in the plastic bag and shaken to coat.
Regular and panko breadcrumbs are another possible breading for chicken wings. These ingredients can often be found on the baking aisle of a grocery store or made in the home with stale bread. The chicken wings may need to be moistened with butter prior to dredging to help the breadcrumbs stick to the skin. Like flour, breadcrumbs generally will need to be seasoned with salt, pepper and other spices to provide more flavor to the final dish.
Some well-known wing restaurants in the United States have begun selling their breading for chicken wings to customers who want to prepare these wings at home. These mixes contain all of the flour and seasonings necessary to make restaurant-quality wings in a deep fryer. Customers also may purchase bottled sauces to serve along with the wings to complete the experience.
AS FEATURED ON:
AS FEATURED ON:








By: VolkOFF-ZS-BP

A meat mallet, which can be used to crush crackers to breading.

By: Vidady

Breadcrumbs are one option as a breading for chicken wings.

By: Jultud

Flour is typically a key breading ingredient for chicken wings.

By: al62

The best breading for chicken wings is liberally seasoned with salt and pepper.

By: starush

Some mixes contain all of the flour and seasonings necessary to make restaurant-quality wings in a deep fryer.