What Are Breakfast Potatoes?
Various potato dishes are often served for breakfast, and they can be side dishes or entrées. Hash browns, American fries and O'Brien potatoes are some of the more common types of breakfast potatoes. Vegetables, such as onions, bell peppers and zucchini, are often added to breakfast potato dishes. Other common ingredients served in breakfast potato dishes include eggs, meat and cheese.
American fries are popular breakfast potatoes made by thinly slicing raw potatoes and frying them in butter. They can be made with or without the skins on them. O'Brien potatoes are made with peeled and diced potatoes. They are combined with minced onion, minced bell pepper and minced pimiento, and they are fried in oil over moderate heat.
Some types of breakfast potatoes are made by boiling whole potatoes, then dicing the potatoes with the skins on them. Onions and red and green bell peppers are sliced and placed in a frying pan with vegetable oil and bacon fat. After these vegetables are sautéed, the potatoes are added and cooked until brown. Breakfast potato dishes also can be made using small red potatoes that are cut into sixths and boiled until tender. The potatoes are then cooked in a skillet with vegetables and herbs, such as julienne zucchini, red onion and squash.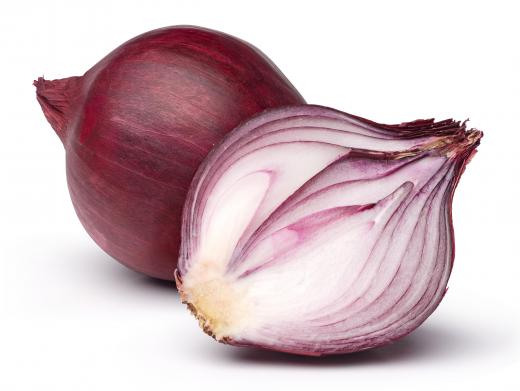 Hash brown breakfast potatoes are often served with morning meals and come in several forms. They can be shredded potatoes that are heaped in a pile and cooked on a grill until brown. Typically, they are turned once during the cooking process. Hash browns also can be shredded potatoes pressed into patties that are made into shapes such as rectangles or circles. The patties typically are deep fried or fried in oil until they are heated all the way through.
Breakfast potatoes also can include ingredients such as meat, eggs and cheese. Shredded hash browns can be cooked in a skillet, then topped with ham and cheese. Sausage potato casserole combines shredded hash browns with smoked sausage, onion, salad dressing and sour cream. Cheesy hash skillet features diced hash browns cooked with onion. They are topped with bacon, cheddar cheese and fried eggs.
Hash browns also are featured in cheesy ham and potato casserole. The potatoes are combined with diced ham, cream of potato soup and sour cream. The dish also includes cheddar cheese and grated Parmesan cheese. Easy, spicy roasted potatoes feature medium red potatoes that have been diced with peeled. They are seasoned with onion, chili powder and garlic, then topped with cheddar cheese.
AS FEATURED ON:
AS FEATURED ON:








A bowl of sour cream, which can be used in making sausage potato casserole.

Red onions are often included in breakfast potatoes.

By: Andre

Potatoes.

By: Bert Folsom

Several types of breakfast potato dishes include cheddar cheese.

By: sparkia

Bacon is often added to breakfast potatoes.

By: Gresei

Adding pimiento peppers can give breakfast potatoes a bit of a spicy kick.

By: Fanfo

Sliced red or green bell peppers are a common ingredient in breakfast potato dishes.

By: andriigorulko

Eggs are often used when making breakfast potatoes.

By: Bronwyn Photo

A ham and potato casserole may be eaten for breakfast.

By: Igor Dutina

For a spicy kick, sprinkle oven-fried breakfast potatoes with chili powder or paprika.