What Is a Breakfast Platter?
A breakfast platter refers to the way breakfast is served and displayed either on a table or on a buffet line. Serving trays allow for pleasing presentation of the food, and allow a number of different people to take from the platter and put the food on their own plates. For events where large groups of people will be sitting down at the table or passing through the buffet line at once, serving the food on different breakfast platters makes this process much easier. Typically, only one food of each type of displayed on a breakfast platter at a time, to accommodate people with dietary restrictions or preferences.
There are some standard foods to be found on a breakfast platter at most restaurants or buffets; often, these foods are kept in a chafing dish to keep them warm. Scrambled eggs, meats such as bacon, ham, or sausage, and some form of potatoes, such as hash browns, are common foods found here. Some countries also serve baked beans with breakfast; of course, different foods may certainly be found around the world based on culture and people's food preferences. Fresh fruit, bagels, pastries, or muffins are frequently also found on breakfast platters.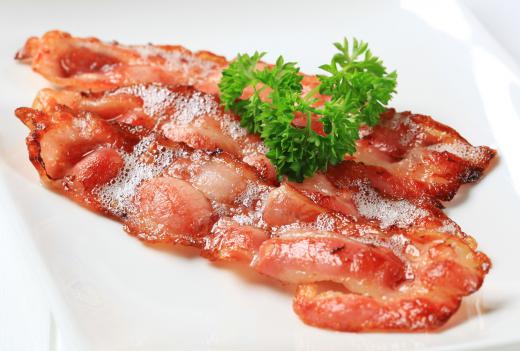 If serving food on a breakfast platter, it is important to keep the hot foods hot and the cold foods cold to avoid bacteria growth; this can potentially lead to food poisoning. In some cases, foods that can be kept at room temperature, such as muffins and bagels, might make a better choice for this reason. Other foods, such as pancakes and French toast, may be easier to keep warm without needing to actually keep them hot such as meat and eggs.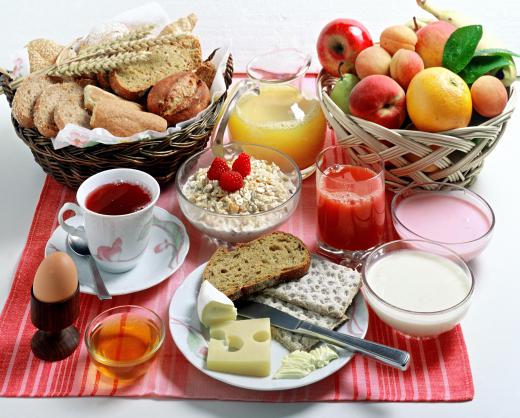 For room service or serving breakfast in bed, a breakfast platter might take on a different function. These might feature a tray with individual dividers to keep food separate, and to provide a place to put coffee or juice to prevent it from sliding around. Hotels or resorts may offer breakfast platters of a certain "theme," such as with foods from a certain area of the world, or with a certain special ingredient such as chocolate. It might be served with chocolate chip pancakes and hot chocolate, for example, or chocolate covered strawberries. This can be a fun way to eat breakfast for a special occasion, or can be a great way for a bride and groom to treat wedding guests who are in town to visit.
AS FEATURED ON:
AS FEATURED ON:








By: Viktor

Bacon if often included on a breakfast platter.

A breakfast platter.

By: TwilightArtPictures

Potatoes and sausage are included in a breakfast platter.

By: dolphy_tv

Fresh fruit bread or muffins are commonly found on a breakfast platter.

By: goodween123

A breakfast platter may include eggs.

By: diego cervo

Bagels can be served on a breakfast platter along with flavored cream cheese spreads.

By: Anticiclo

A savory egg-based quiche or frittata may be featured on a breakfast platter.

By: Boggy

A breakfast platter may be displayed in a buffet line.