Canapés are hors d'oeuvres made with a base of bread or crackers, and topped with an assortment of small, usually savory toppings. Typically, they are served before dinner in a drawing room or lounge area, along with an assortment of other appetizers. Most cooks and caterers produce an assortment of options, so that guests can try out numerous different flavors. They may also be used as a standalone food item, in the case of things like receptions for art shows and theatre performances.
The word is French, and derived from the Greek konopeion, for a bed or couch with protective mosquito curtains. In French, the word describes curtains in general, and it may have been adopted for the appetizer in a reference to the fact that the bread base is draped or covered with food items. In other Romance languages, such as Spanish, the term refers to a couch, showing how an original word can diverge in meaning widely, even in a related language family.
The base of all canapés is some type of bread. Traditionally, they have been made with stale white bread that is toasted, sauteed, or fried to turn it golden and crispy. Crackers may also be used. The bread is cut out in a geometric shape, commonly a square, although triangles, circles, rectangles, and other shapes may be used. Some caterers use their shapes as a code, so that they can readily distinguish between different options when asked about them by guests.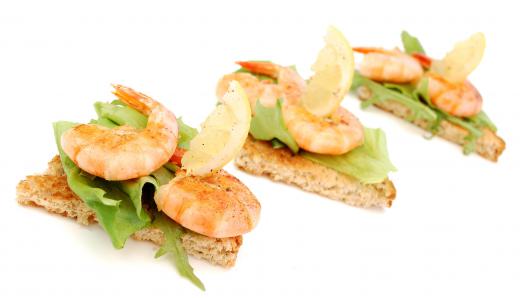 Next comes a thin layer of a spread, which is usually dairy based. A flavored butter or cream cheese is a common choice, with the flavor complementing the next layer, a main focal point such as cheese, meat, or vegetables. Next, the food is topped with a garnish to make it more formal, decorative, and flavorful. Caviar, herbs, scallions, and flavored oils such as truffle oil are common choices of garnish.
The flavor of canapés is rarely neutral. Most often, they are made salty or spicy so that they complement the drinks being served with them. They may be served hot or cold, and are intended to be eaten with the fingers from a canapé plate, a small dish which holds each guest's individual appetizers. Large platters of the hors d'oeuvres may be carried around a party or laid out on large buffet tables.
A related appetizer is the vol au vent, an hors d'oeuvre made with filled puff pastry. The pastry is shaped almost like a thimble, designed to accommodate a small and flavorful taste of food. It is also garnished, and may be available in a wide assortment of flavors at a large party.
AS FEATURED ON:
AS FEATURED ON:








Canapés with cheese, tomato, olive and basil.

Shrimp canapés.

Salmon canapés with crème fraîche, caviar and dill.

By: amlet

Canapes are often garnished with caviar.

By: Betty Abrantes

Caviar canapés with sour cream and basil.