In cuisine, the term mousselines can refer to several different things. The first is a family of sauces, and the second is a group of molded dishes which are frequently served cold as appetizers. Both come from French cuisine, and they are beaten with eggs and whipped cream for a light, airy texture. Mousselines can also be very challenging to make, and they often require patience as well.
The first type of mousseline is a sauce, typically hollandaise sauce, beaten with whipped cream so that it has a lighter texture than traditional hollandaise. The sauce may be served over an assortment of foods, especially fish and vegetables, which benefit from a lighter, less dense sauce. Typically, the sauce is served shortly after it is made, since hollandaise sauce can attract bacteria if it is allowed to sit out. Mousselines in this case may be flavored with ingredients like dill and tarragon, or left plain, as traditional hollandaise sauce.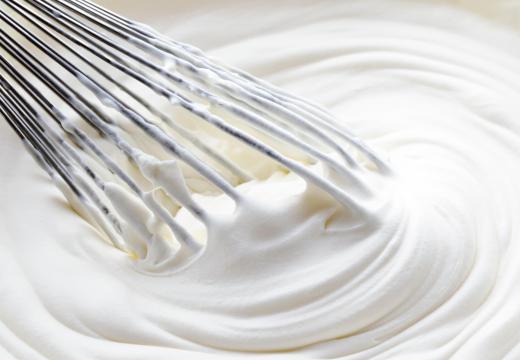 The other type of mousseline is a more complex dish. It starts with a base of paste, traditionally seafood paste although meats may be used as well. The paste is blended with eggs and whipped cream and then placed into molds to set. Often, gelatin is added as well, turning the dish into a sort of aspic which will hold its shape when unmolded. Mousselines can be quite frothy confections of intricate molding, especially at formal events.
The second style of mousseline is often used as a French appetizer, paired with an assortment of foods and sauces or served on crackers. It may also be used as a side dish or garnish. Scallop mousseline is a common variation, and in the United States, salmon is very popular. The dish may be served individually, or a large mold may be made so that guests can cut servings for themselves. This is especially common in a buffet line, or at a casual event where appetizers are laid out for people to pick through.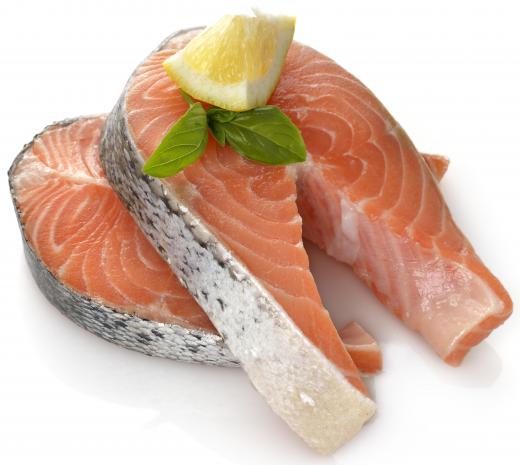 Making the first type of mousseline requires a steady hand, since hollandaise sauce can be easily curdled or overcooked. If the sauce is cooked too much, the ingredients will separate, forming an unsightly mess on the plate which is not terribly appealing. The second dish is less challenging to make, but it can require some trial and error to perfect the recipe, and the end results are not always to everyone's taste. Good mousselines can be reminiscent of pate and other heavily refined French dishes, and they can be a bit overwhelming for people who are not experienced with them.
AS FEATURED ON:
AS FEATURED ON:








By: Tsuboya

Mousselines are made with eggs and whipped cream.

Mousselines are common in a buffet line.

By: SunnyS

Salmon with mousseline sauce is very popular in the United States.