Cocktail picks or cocktail toothpicks are small beverage utensils that are used to spear garnishes on cocktails. For instance if you order a martini with an olive, you're like to want to eat the olive. By placing the olive on a cocktail pick, you can easily pick up the olive and eat it without having to fish through the glass to get to it.
The simplest cocktail picks are wooden or plastic toothpicks, often ones that have a tiny amount of colored ribbon wrapped on one end to make a drink look more festive. Yet there's no reason to stop at these relatively unimaginative offerings. You can find both reusable, and significantly more durable cocktail picks in a variety of styles, or disposable ones that exhibit a range of different designs.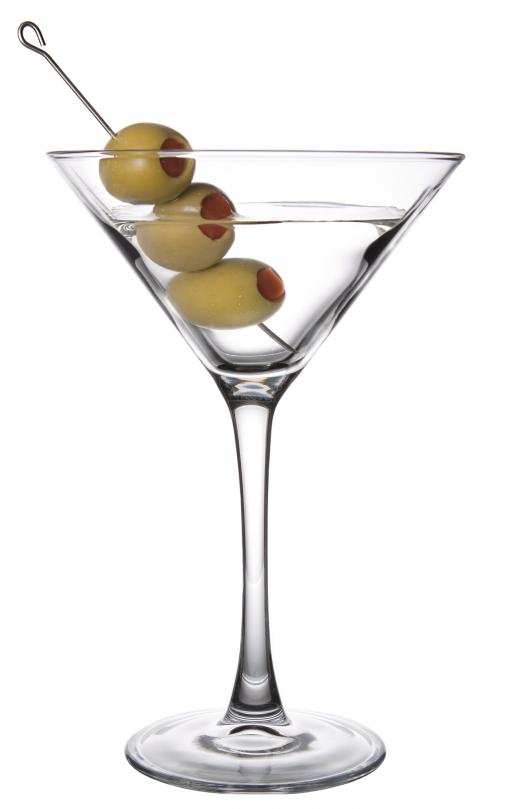 Many are familiar with some of the tropical drinks like pina coladas that are usually served with a fruit garnish. Most typically, you'll see wooden cocktail picks with small umbrellas on the end to emphasize the "tropical" and "island" nature of these drinks. There's no need to reserve these merely for cocktails that contain alcohol. Kids may love umbrella picks speared through a few slices of fruit on smoothies, fruit drinks, or even on simple sodas like lemon-lime or cola flavored drinks.
In most kitchen supply or beverage stores, you'll find a variety of one-time use plastic cocktail picks. If these are really flexible, they may not adequately spear certain items. Pineapple and pickled onions are known enemies of inexpensive wooden and plastic picks.
More durable picks are to be had in a plethora of designs. Some picks have monkeys, pirate symbols, stars, swizzles, or even pigs or blowfish on the ends. If you want to make sure you still have picks at the end of the night, consider metal ones. These are not likely to be confused with plastic or wooden spears that can be thrown out. Metal cocktail picks also have the advantage of being able to spear almost anything without breaking, something you can't always count on with other varieties.
If you're looking for elaborate designs in metal picks, you can expect to pay about 10-14 US dollars (USD) for a set of six. Generally the more elaborate the design, the more you'll pay, and you can easily pay well over 20 USD for an older set or one of superior make and quality. Another choice, quite popular when you're serving Asian or tropical inspired dinners, is a bamboo skewer. These are one time use, but a set of 50 can normally be purchased for about 5 USD.
AS FEATURED ON:
AS FEATURED ON:








By: dondesigns

Three olives on a cocktail pick.

By: Nitr

Cocktail picks often have small umbrellas on the end.

By: Vladyslav Danilin

Cocktail umbrellas are used as colorful garnishes with frozen and mixed cocktails.