The majority of chocolate products are made of a combination of cocoa liquor, sugar, and a host of other ingredients. This liquor is made by blending the two basic components of the cocoa bean together. These components can be fatty, in the form of cocoa butter, or dry in the form of cocoa solids. The exact ratio of these two components can effect everything from the taste to the nutritional content of the final product. Some food-governing agencies also require a minimum amount of cocoa solids or butter in a product before it can legally be labeled as chocolate.
Cocoa powder is one of the purest forms of cocoa solid. This powder contains no fatty elements, that is, no cocoa butter. Plain cocoa powder is very bitter, with a strong chocolate flavor. Consumers are likely more familiar with alkalized, or Dutch, cocoa powder, which is less bitter and milder in flavor. These powdered solids are used in baking, or for making hot chocolate.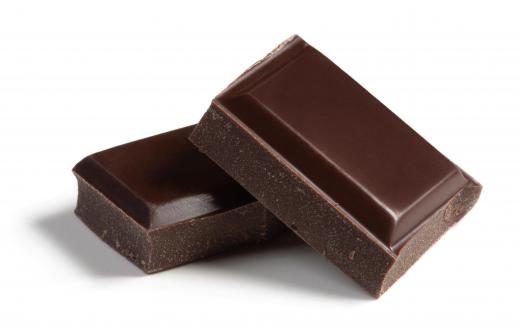 Cocoa solids are also added to chocolate bars and other candy, and different products are often associated with a specific cocoa solids content. For example, bittersweet and semisweet chocolate typically contain at least 35 percent solids, while dark chocolate can contain 40 percent or more. Milk chocolate contains as little as ten percent cocoa solids, while white chocolate contains none. Unsweetened baking chocolates are a blend of half solids and half cocoa butter. While many consumers believe that higher solid percentages means better chocolate, this isn't necessarily always the case.
The dry solids from the cocoa bean give chocolate its distinctive flavor, and are also the source of most of its nutritional value. Cocoa butter, on the other hand, is used to give chocolate the correct texture and to control its melting point. Products with too little cocoa butter often feel waxy, while the best quality bars often contain a high percentage of cocoa solids. By varying the ratios of these two ingredients, manufacturers can create chocolates with vastly different flavors and textures.
Cocoa butter is very high in fat, as well as unhealthy saturated fats. Cocoa solids contain little fat, and are virtually free of saturated fat. These solids contain many of the same antioxidants, or flavenoids that are found in red wine. They are also rich in vitamins and minerals, and are often said to give people a mental or emotional lift by boosting serotonin production.
AS FEATURED ON:
AS FEATURED ON:








By: Andris T

Dark chocolate can contain 40% or more cocoa solids.

By: Printemps

Chocolate is made from cacao beans.

By: winston

A very pure form of cocoa solids is cocoa powder.

By: haveseen

Cocoa solids can be used for making hot chocolate.

By: Jiri Hera

Dry solids from the cocoa bean gives chocolate its distinct flavor.