The term "fish fingers" is a British description of a food known by many other names in other parts of the world. Americans typically call the food "fish sticks". Fish fingers are small, thin fillets or bits of fish that are breaded or battered. They are generally much smaller, for example, than the fish pieces used in another traditional British meal, fish and chips, where large fillets are served with chips or fries.
Different kinds of fish can be used to make fish fingers. One of the main varieties is cod; this white fish is often the main ingredient in the food. Other fishes like Pollock are also commonly used. Some upscale fish fingers can be composed of higher end products, from mackerel and halibut, to salmon, crab meat, and even caviar.
The more quality kinds of fish sticks or fingers are fish parts cut into fillets and breaded. In cheaper versions of this dish, cooks, or more commonly, manufacturers, make fish into a kind of paste and re-shape it for breading. Either kind of fish fingers benefits from quality breading, for example, from organic or other quality bread crumbs or batter.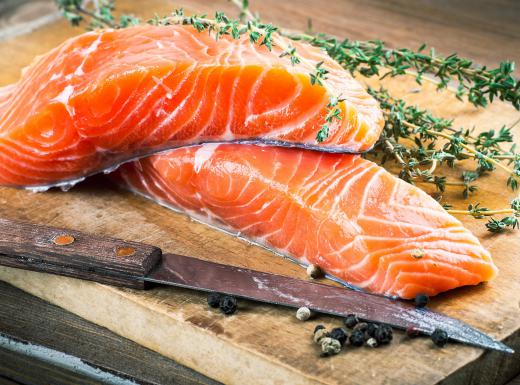 Fish finger products can be fried, or baked. These various cooking methods affect the final nutritional value of the food. In many places where they are enjoyed, these items are likely to be fried in commercial establishments with sophisticated food handling machines such as deep fryers, but in homes, where they are cooked for family meals, they tend to be baked, which can be done easily in a home oven, or in some cases, even in a microwave oven. Most kinds of fish fingers are not likely to be very palatable cooked in a microwave, but in some cases, when properly thawed, this cooking method might work.
The etymology of this popular food is mysterious. According to some reports, the name "fish fingers" came from factory workers in the plant where the food was first mass manufactured. Now, many different food makers compete to offer fish sticks or fingers that will appeal to a large consumer audience. Where makers place an emphasis on quality, some of these foods will be sourced locally, made from organic materials, or simply processed to a minimal extent. By reading the nutritional details on packaging, shoppers can understand more about what is in a particular brand of fish fingers, and how using frozen fish contrasts to cooking with fresh varieties.
AS FEATURED ON:
AS FEATURED ON:








By: amlet

Upscale fish fingers might be composed of caviar.

By: seqoya

Salmon may be used to make fish fingers.