What are the Different Types of Finger Food?
Finger food is perhaps the most casual term for hors'd'oeuvres or small appetizers. Typically small and devoured in one or two bites, finger food is a staple of many parties and special events. You can adapt just about any food to become handheld, allowing you to create fun, festive, and even fancy food to suit any type of evening.
For a casual party or kid's event, simply miniaturize favorite foods for easy snacks. For a mini-hamburger than can be eaten in two bites, cut dinner rolls in half for buns and cook or grill burgers the size of meatballs. Top with a half-slice of cheese and all the fixings for a perfect finger food. Spear a cocktail wiener on a wooden skewer an dip in cornbread batter before deep-frying for a mini-corn dog. For the ultimate kid-friendly finger food, make peanut butter and jelly sandwiches and use cookie cutters to cut out mini-versions in fun shapes.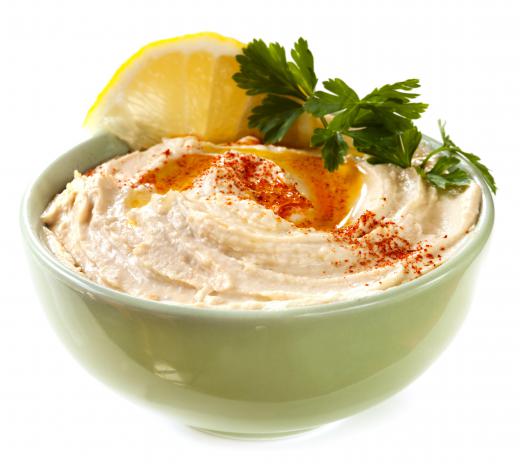 For an adult party, finger foods can be as simple or complex as you can dream up. For those pressed for time, an attractive plate of cut-up vegetables or fruit with a few dipping options can make a lovely display. Try arranging jicama, celery, baby carrots and cherry tomatoes with salsa, ranch dressing, or a spicy garlic dip. For a basic dessert option, slice apples, mangoes and firm peaches and serve with a chocolate or caramel dipping sauce. Just because these finger foods are basic doesn't mean they aren't delicious, and can work quite well when time or budget is a concern.
If you love a cooking challenge, the world of finger food is wide open to you. Try wrapping asparagus in bacon and puff pastry dough and then roast in the oven in garlic and olive oil. Stuff jalapeño peppers with cream cheese and salsa and char over the barbecue, or deep fry in batter. For the truly adventurous, get out the seaweed and the sticky rice and try your hand as a sushi master. For those a little timid around raw fish, why not try miniature wrap sandwiches made with flour tortillas, herbed goat cheese and roasted pepper strips?
Using one cooking method for the whole spread of finger food can be a saving grace to your event. For instance, an entire meal can be set around different styles of grilled kebabs. Soak each type of meat or vegetable in a different marinade to create a world of different flavor combinations. You can even grill tropical fruits such as pineapple, mango and guava for dessert kebabs. Give the whole meal a middle-eastern flair by serving with lots of pita, hummus, and other appropriate dips.
Desserts should never be neglected by finger food enthusiasts. This is the day to break out those mini tart or cupcake pans and let your mind go wild. Take small sheets of puff pastry and fill with applesauce or jam for miniature turnovers. Or bake a few super-fancy cookies, such as meringues, to create a towering display of mini-treats. Finger food options are bound only by the imagination, and though the size requirement is small, the innovation can be enormous.
AS FEATURED ON:
AS FEATURED ON:








Pita wedges served with hummus can be a great finger food.

By: IngridHS

Pears may be grilled.

By: JJAVA

Little smokies might be served as a finger food.

By: nataliazakharova

Potato chips are an easy finger food.

By: Matthew Antonino

Broiled, bacon-wrapped scallops.

By: Kimberly Reinick

Brownies are considered a finger food since they are eaten with the hands.

By: Jiri Hera

Flour tortillas can be used as wraps for finger food.

By: Elzbieta Sekowska

Certain types of finger food may need to be eaten quickly.

By: Joshua Resnick

Chicken wings make tasty finger food.

By: wuttichok

Guava can be included in a kebab for finger foods desserts.

Sushi can be eaten by hand.

By: volff

A mango kebab can be grilled and served as finger food.

By: marrfa

Asparagus spears on their own, or wrapped in bacon and puff pastry, can be a delicious finger food.

By: volff

Sliced apples and other fruits can make great finger foods.

By: Lsantilli

Herbed goat cheese, which can be used to make mini sandwiches.

By: Ruth Black

A cupcake.

By: martinlee

Cocktail meatballs.

Goat cheese, which can be used to make finger food.

By: JJAVA

Robust salsa is a perfect topper for nachos.