Haricot beans are small dry white beans which are a staple in baked bean dishes along with soups and chilis. When people think of beans, some think of haricots, as they are rather ubiquitous. Many markets sell haricots, and they can also be grown at home, if you have enough room in your garden for beans. In addition to providing a source of food, beans are also nitrogen fixers, so they will enrich the soil that they are planted in.
There are numerous alternate names for haricot beans including Boston beans, navy beans, pearl haricots, and fagioli. The beans are roughly oval shaped and flattened, with a pure white edible skin. The flavor of haricot beans is relatively bland, although the beans are rich in protein, folate, iron, thiamin, and magnesium, so they are an excellent addition to a healthy diet. Vegetarians in particular use haricot beans extensively, and they can supplement and enrich an assortment of dishes.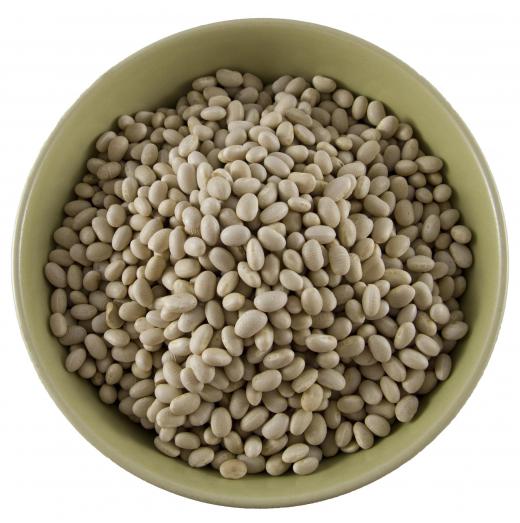 Like other dried beans, haricot beans will keep for a year or more when stored in a cool dry place out of the sunlight. When selecting haricot beans in the market, avoid beans which are discolored, as they may have been poorly handled while they dried. When you are ready to use the beans, first rinse them and pick through the rinsed beans to remove small stones and organic material which may have been packaged with them.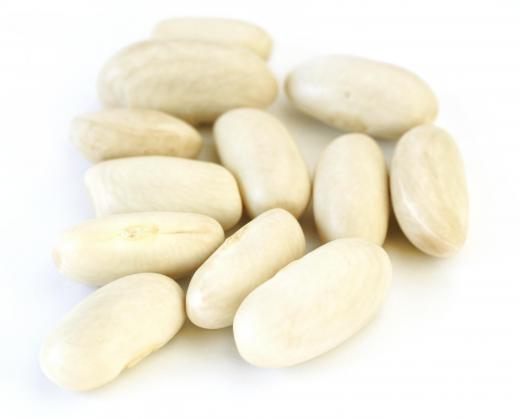 The beans will cook more quickly and be easier to digest if they are soaked first. Soaking helps to soften the outer skin of the bean, allowing the beans to absorb more water and break down as they cook. Undercooked beans can cause intestinal distress and the infamous "toot" associated with excessive bean consumption, so make sure that the beans are all the way cooked before you serve them. If a recipe calls for haricot beans and none are available, try using lima beans, great northern beans, or cannellini.
To grow haricots, obtain seeds from a gardening company and plant them in a sunny place in the spring, providing stakes to support the plants as they grow. When seedlings appear, thin them out so that the bean plants will not be crowded, and keep the soil well watered. Allow the beans to mature and dry on the vine, and then collect the beans and shell them for storage. You may also want to try growing the classic Central American "three sisters," allowing beans to climb stalks of corn while squash keeps the ground cool and shaded.
AS FEATURED ON:
AS FEATURED ON:








By: BronxPhotog

Haricot beans.

By: tfazevedo

Great Northern beans, which can be substituted for haricot beans.

By: AZP Worldwide

Haricot beans can grow up the stalks of corn.