What are Honeybell Oranges?
Honeybell oranges are exceptionally sweet and juicy citrus fruits that only reach peak ripeness during the month of January. Also known as Minneola tangelos, they are not actually oranges at all. They are a hybrid or cross between the Darcy variety of tangerine and either the Duncan or Bowen variety of grapefruit. This hybridization process, which some sources say can be traced back to ancient Asia, yields a tangelo with the coloring and size of a grapefruit and the sweetness and juiciness of a tangerine. The fruit is prized for its sweetness and relative scarcity, along with its abundant supply of juice.
Many customers order Honeybell oranges well in advance of their actual due date in January. A few strains may be ready to ship in late December, but the majority of the crop reaches maximum ripeness during the last weeks of January, or possibly early February. Virtually all Honeybell trees in the United States grow along the Indian River in Florida, and the crop yield is often regarded as unpredictable from year to year. Growers take orders for the oranges throughout the year, but can only harvest the crop during the late winter. Great care must be taken while harvesting the fruit in order to avoid damaging the distinctively bell-shaped stem end, which actually inspired the name for the fruit itself.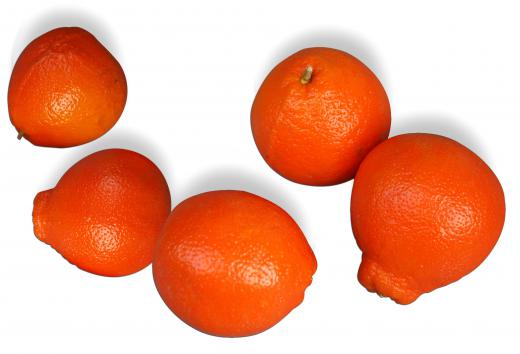 It is not unusual for a citrus grower to include a bib with larger orders. The skin is fairly loose because of the hybridization process, but many people find eating the fruit to be a challenge because of its juiciness. Consuming them while on the move would be nearly impossible. Many people recommend using a knife to cut out individual sections and a plate to capture excess juices. Two average sized Honeybell oranges can provide nearly a full glass of freshly squeezed juice.
The fruit can be ordered online, directly from commercial orchards or through catalogs that offer packages of citrus fruit as potential gift items. It is generally hand-packed into special protective containers in order to prevent damage during shipping. The relative rarity of the variety and the special harvesting and handling requirements can make Honeybells significantly more expensive than other selections, but most people who have experienced the fruit's sweetness consider it a worthwhile investment.
AS FEATURED ON:
AS FEATURED ON:








By: Accent

Honeybell oranges are most readily available in January.

By: sommai

It takes two average sized Honeybell oranges to produce a full glass of freshly squeezed juice.