Hors d'oeuvres are bite-sized foods usually served cold before a main meal to whet the appetite or sustain guests through a long cocktail hour. They are sometimes referred to as appetizers, and usually appear in addition to a main meal, although cocktail parties and receptions sometimes serve them exclusively. The little bites of food can take many forms, from the simple to the elaborate, and most parties feature a wide spread that is designed to entice guests with a variety of tastes and food preferences.
The name is taken from the French, and when translated literally, it means "before the work," in a reference to the main meal. At a well balanced meal, hors d'oeuvres will not overwhelm diners, but rather provide small and interesting bursts of flavor in the mouth that do not ruin the appetite for the main meal. When they are being served alone at a party, they are sometimes more substantial so that guests do not leave in search of other food. Parties held late at night may also offer appetizers rather than regular dishes, so that guests do not go to sleep weighed down with heavy foods.
Some common examples include crudites, cheese plates, fruit plates, toasted nuts, tartines with various toppings, small tarts, and stuffed vegetables. Many of these hors d'oeuvres are easy to make, while others require some more preparation. In most cases, they are set on on large platters next to smaller dishes with tongs so that guests can take their own. Generally, the appetizers are eaten with the fingers, although guests who are seated to eat may use utensils. At a dinner party, finger bowls are offered before the meal and again after the hors d'oeuvres so that guests can clean their hands.
A crudite platter is a simple hors d'oeuvre that cooks at all levels of experience can make. Basic crudites consist of a spread of fresh vegetables attractively laid out around a dish of dip or spread. Some crudites use more than one dip, and flavors like roasted bell pepper, goat cheese, anchovies, and curry can all be used in dips for crudites, along with many others. Tartines, also known as canapes, are small pieces of toast topped with ingredients like marinated tuna, anchovy paste, cheeses, and others. Other appetizers include roasted figs stuffed with cheese, fruit wrapped in prosciutto, and other elaborate food constructions.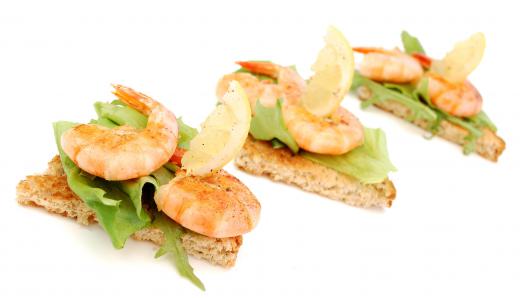 In addition to carefully constructed hors d'oeuvres, many hosts set out dishes of olives, cheeses and crackers, pates, and stuffed eggs. Guests can drift through the offerings picking up foods that look appealing and taste some new and interesting flavors, as well. The imagination is the only limiter when thinking about food options, and many catering services offer an array of options to hosts who would like to serve adventurous guests.
AS FEATURED ON:
AS FEATURED ON:








A plate of hors d'oeuvres.

A Hors d'Oeuvre with basil, tomato, cheese and a black olive.

Shrimp canapés.

Salmon canapés with crème fraîche, caviar and dill.

By: Lucian Milasan

Crackers used for hors d'oeuvres.

By: Lsantilli

Olives.

By: Natalia Mylova

Tapenade served with a slice of bread, which is often served as an hors d'oeuvre.

By: MSPhotographic

Meat spreads with crackers may be served as hors d'oeuvres.

By: Matthew Antonino

Broiled, bacon-wrapped scallops.

By: JJAVA

Cocktail wieners might be served as hors d'oervres.

By: Louella Folsom

A platter with different kinds of pickles might be served as part of an hors d'oeuvres option.

By: Kybele

Chicken wings might be served as an hors d'oeuvres.

By: .shock

At any cocktail party, try to offer an assortment of hors d'oeuvres that are vegetarian.