There are several things that may be called Irish potatoes. When referring to actual potatoes, Irish potatoes have a white interior and brown skin. They are sometimes just called the white potato, and they are specifically relatives of the nightshade family called Solanum tuberosum. Irish potatoes can also refer to candies or cookies made that look like potatoes, or they may reference recipes using potatoes that are prepared in traditional Irish ways.
It's perhaps to the detriment of the Irish that Irish potatoes became such an important crop there. They grew very well, and by the 19th century, they formed an essential part of the Irish diet. However, in the mid-19th century, the potatoes were infected with a blight that rotted most of them, and this led to mass starvation in Ireland. It is estimated that within a few years, 1.5 million people died, over an eighth of the population. This problem resolved eventually, but not without extreme cost to the Irish. Still, today the potato is an important part of the diet and likely to be served with many meals, or as the main part of a meal.
Some of the traditional dishes made with Irish potatoes include potato soup, usually a combination of carrots, possibly leeks, onions, and potatoes boiled together. Steamed or boiled potatoes are often simply served with a little salt and pepper. Champ uses steamed or boiled potatoes finely mashed. Milk and scallions are added, and the dish is served with butter, or alternately shredded cooked cabbage leaves may be added and the dish is then sometimes called colcannon.
Another dish made with Irish potatoes is boxty, a version of the potato pancake. It combines grated raw potatoes, mashed cooked potatoes, wheat flour, milk and butter. The ingredients are mixed together and flattened into cakes, and are then fried on griddles or in pans with bacon grease. A simpler recipe called fadge makes smaller cakes that are usually topped with sugar. Alternately, if oatmeal is used with mashed potatoes to make cakes it may be called pratie oaten.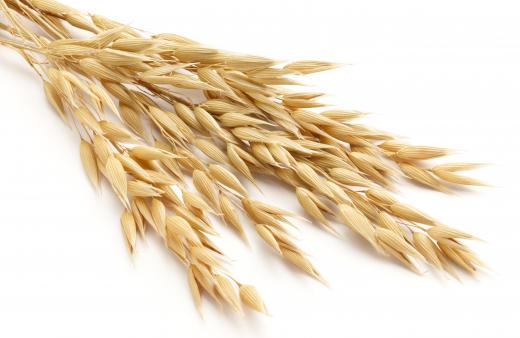 Candy Irish potatoes may mean candy that contains potatoes or resembles them, and sometimes it means both. Some recipes call for mashed potatoes, which may be combined with powdered sugar, and other ingredients like peanut butter. Since the candy is easy to mold, it can be shaped into little potatoes and rolled in things like cinnamon sugar or cocoa, which give it a brown exterior. Other recipes don't use potatoes but may make use of things like cream cheese and powered sugar to create the center.
AS FEATURED ON:
AS FEATURED ON:








By: searagen

The flag of Ireland.

By: Joe Gough

Mashed potatoes made with Irish potatoes.

By: Okea

If oatmeal is used with mashed potatoes to make cakes it may be called pratie oaten.

By: Natika

Irish potatoes are also known as white potatoes.

By: Konstiantyn

Potatoes belong to the nightshade family of plants, which also includes eggplants and tomatoes.