What are Kitchen Scissors?
Kitchen scissors are handy utensils that include two sharp blades operated with a pair of handles. The blades of the scissors work to cut through meats and other foods from two directions at the same time. As a result, a pair of kitchen scissors can often handle a job around the kitchen that would be much harder to accomplish with a simple knife.
In appearance, kitchen scissors are very much like any pair of scissors used in sewing and similar tasks. The two blades are composed of a hard metal, usually stainless steel. The handles are also normally composed of stainless steel, although the steel handles may be coated with a layer of protective and slip-proof plastic. Less expensive brands of the scissors will feature metal blades that are embedded at one end into plastic handles.
While the general design of the kitchen scissors is like that of any other type of scissors, there are a couple of key differences. The fulcrum on the blades is positioned further from the handles than in other scissor designs. This placement helps to enhance the ability to angle the blades in just the right direction for a cutting task. At the same time, the design also makes it possible to increase the rate of pressure that is exerted as the handles are used to move the blades toward one another. In addition, the tips of blades are often rounded or blunted rather than coming to a point, although this is not always the case.
One of the most common tasks using kitchen tools of this type is cutting through meats. Kitchen scissors are invaluable when cutting up a whole chicken for frying. The blades of the scissors easily cut through bones, making it a relatively easy task to separate the pieces according to the cook's wishes. In like manner, other cuts of meat that contain bones can also be cut easily using kitchen scissors.
Along with cutting through meats, these handy kitchen utensils can also make it possible to quickly cut through green leafy vegetables. The scissors work especially well when cutting through bundles of kale, collards, or turnip greens. Bundles of asparagus spears or green onions can also be quickly cut into small sections using a pair of kitchen scissors. Some cooks believe that using the scissors for these types of applications works better than using a chopping knife and a cutting board.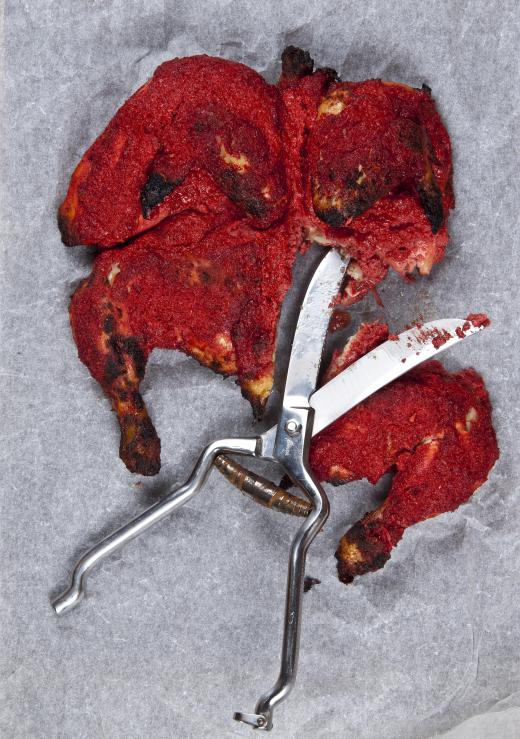 Kitchen shears or scissors can be purchased at a number of retail outlets. Kitchen shops will often carry the scissors in several sizes and designs. Home stores often include kitchen scissors in their selection of kitchen items. Low-cost brands of the scissors are found in the home section of many discount retail outlets. A few brands are also routinely found in supermarkets. While higher-end versions of the scissors can be somewhat expensive, they are also likely to last for many years of constant use.
AS FEATURED ON:
AS FEATURED ON:








By: arska n

Kitchen scissors.

By: terex

Kitchen scissors with a padded handle.

By: marrfa

Kitchen scissors are especially helpful for cutting things like asparagus spears and broccoli florets.

By: mipstudio

Some kitchen scissors are specially designed to cut through meats, like chickens.