What Are Kosher Dill Pickles?
Kosher dill pickles are pickles produced in accordance with Jewish dietary law, also known as Kashrut. This states that kosher food must only contain ingredients that are approved by Kashrut dietary law. Foods such as kosher dill pickles, though suitable for everyday consumption by Jews, may not necessarily be considered kosher for eating on Jewish high days or holy days like Passover.
Unprocessed foods are generally much easier to make in a kosher fashion than others, as little alteration is involved in producing and packing them. In this regard, kosher dill pickles fall between the rules for raw fruits and vegetables, which are permitted as kosher as long as no insects are present on or in them, and other foods that require some preparation. The guidelines of Kashrut are largely concerned with meat and animal products. This affects kosher dill pickles, as polysorbates, which are derived from animal fats and are sometimes used in pickle brine, must not be added in the jars they are stored in if they are to be considered kosher.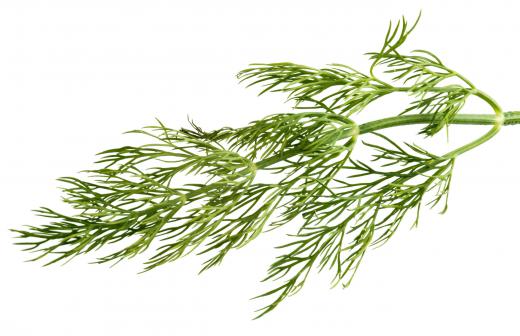 One of the prominent kosher certifying organizations in the United States goes into detail on its website for how to check various fruits and vegetables to ensure that they are kosher. Before any food can be labeled as kosher in the US, it must meet strict Kashrut guidelines. The government works with organizations to establish these guidelines. Once a product is certified as kosher, the location where it is produced will be inspected regularly by Jewish organizations in order to retain that status.
Other commonly used ingredients that must be kosher to produce kosher dill pickles include vinegar, salt, and herbs such as dill. Vinegar is related to wine, so it must be kosher vinegar if used to make pickles, though many kosher dill pickles for sale don't contain any vinegar at all. Kosher salt is absent of additives like iodide and dill spice, which, if not fresh, may contain additives like polysorbate emulsifiers and anti-caking agents that are not kosher. Spice labeling doesn't require that these additives be listed in the US, so cooking with dill in accordance with Kashrut often requires that fresh dill be used.
Foods that are kosher are labeled with a certifying symbol. In the United States, this entails one of six different national organizations and dozens of regional state ones. Worldwide, there are more than 700 agencies that certify foods as kosher.
AS FEATURED ON:
AS FEATURED ON:








By: Viktor

Dill weed.

By: Natalya Korolevskaya

Pickling cucumbers growing on the vine. The pickling mixture is what makes them sour or sweet.

By: Yury Teploukhov

Kosher dill pickles.

By: sumnersgraphicsinc

Many delis serve their sandwiches with a kosher dill pickle on the side.

By: Louella Folsom

Kosher dill pickles may be sliced for hamburgers.

By: natashamam35

The coarse kosher salt that is used to brine kosher dill pickles contains no iodine or other additives.