Little smokies are small cocktail sausages sold in pre-packaged bags. The most well-known brand is Lit'l Smokies®, made by Hillshire Farms, though of course other brands are available inside and outside of the United States. They can sometimes be found in different flavors, including cheddar or chipotle pepper, but are generally made of beef and/or pork and have a smoked flavor. Little smokies are high in protein but are also high in sodium.
These sausages, essentially little hot dogs, are easy to heat up and enjoy as an appetizer or snack. To enjoy them plain, they can be boiled for two to four minutes, baked in a pan in a 350ºF (177ºC) oven for 12 to 14 minutes, or cooked in the microwave for four to five minutes. Little smokies can also be added to other recipes for flavorful appetizers.
Most people have heard of "Pigs in a Blanket," a popular recipe in which a hot dog is wrapped in biscuit dough and baked. You could make pigs in a blanket with little sausages as well. An easy trick is to use Pillsbury® crescent rolls to wrap the little smokies. Some people suggest adding cheese or even bacon to the wraps, but that is a matter of preference.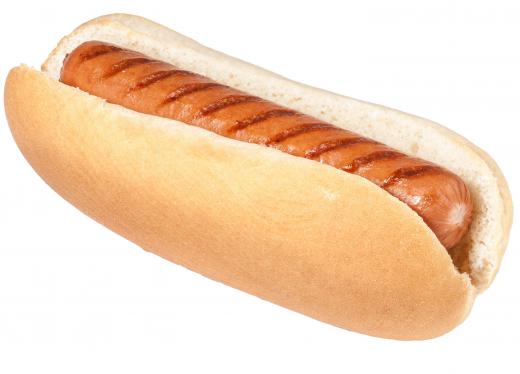 It is not difficult to add even more flavor to little smokies to serve them as appetizers. Many recipes suggest adding brown sugar, Worcestershire sauce, dry mustard, pepper and onion to a pan and letting the mixture simmer with the smoked sausages for ten to fifteen minutes. Another option is to place the sausages in the crock pot with some barbecue sauce for a few hours.
If you want an even spicier appetizer, add a few drops of Tabasco sauce or some horseradish to the sausages. If you aren't in the mood for a spicy snack, adding lemon juice, pieces of orange or chunks of pineapple adds a sweeter taste that is quite different. You could also make kabobs out of little smokies, layering vegetables or fruit on a kabob stick and grilling or baking them. Marinating the kabobs first in a sweet or spicy marinade of your choosing would give them a great flavor.
AS FEATURED ON:
AS FEATURED ON:








By: JJAVA

Little smokies are often served as appetizers.

By: Springfield Gallery

Little smokies are in essence small size hot dogs.

By: Michael Pettigrew

Little smokies are easy to heat up and enjoy as an appetizer or snack.

By: JackF

One way to cook little smokies is to put them in a crock pot with some barbecue sauce.

By: manuart

Some people use yellow cheddar or another mild cheese to top little smokies.