What is the Difference Between a Hot Dog, Weiner, Frank, and Sausage?
The hot dog, considered quintessential American food owes its origin to two places outside the US. Frankfurt, Germany, and Vienna, Austria lay claim to inventing these sausages. Thus franks or frankfurters are merely synonyms for this dish. Wiener comes from the name Wien, the Austrian name for the city English speakers call Vienna. Essentially there is no difference between hot dogs, wieners, and franks, although some say that wieners may be slightly shorter than franks.
All hot dogs are sausages, a mixture of meat and spices usually stuffed into casings (or veggies and soy products for a veggie dog stuffed into a veggie casing). Yet not every sausage is a hot dog. There are plenty of sausages that predate franks and weiners, and they can contain mixtures of meat, fat, animal blood, and spices in casing, but don't have the same taste as the modern weiners or franks. Generally, hot dogs, unless kosher, are a combination of finely ground pork and beef combined with salt and spices. This differs widely from tiny breakfast, spicy Italian, chicken and apple or black pudding sausages.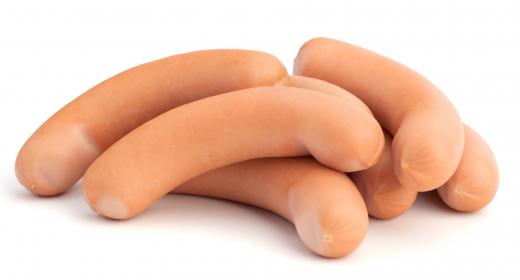 Sausages are referenced as far back as Homer's Odyssey dated at about 850 BCE. The earliest possible reference to a hot dog occurs in the late 17th century, when a sausage maker named Johann Georghehner may have first invented a sausage he called "little dachshunds," or "little dogs," after the dogs many today refer to as weiner dogs. Georghehner, though originally from Coburg, Germany, is said to have brought his new sausages to Frankfurt, but there is a great deal of debate on this subject, and the matter of who really invented this type of sausage is still unresolved.
There are some variations on hot dogs though. For instance, Hebrew National® labels their product as all beef franks, and are popular because they are kosher. They contain no pork, and use only kosher cuts of beef. To add further puzzlement to matters, cocktail weiners are very short sausages, meant to be eaten in a bite or two. They really don't differ much from the standard kind except in size. Vienna sausages are also considered hot dogs of a sort, though they are typically slightly larger than cocktail weiners and still smaller than franks.
Do note that most franks and weiners are pre-cooked, but you still need to re-cook them. Many sausages can be sold raw, but this usually isn't the case with hot dogs. Follow package directions for safe heating.
AS FEATURED ON:
AS FEATURED ON:








By: Natika

Hot dogs, also called franks.

By: Louis Renaud

Raw sausages.

Blood sausage.

Kielbasa, a type of sausage.

By: Brenda Carson

A hot dog with mustard.

By: JJAVA

Cocktail sausages are popular at get togethers.

By: Bokicbo

Vienna, Austria, is the home of the sausages named after the city.

By: aboikis

There are many types of sausages that are not hot dogs.