A date fruit is the product of a date palm, a tree native to Northern Africa and the Middle East, although it is also cultivated in other parts of the world. In addition to being eaten fresh, the date fruit is dried and eaten whole as a snack or included in an assortment of desserts. Many regional Middle Eastern cuisines incorporate dates, as do Mediterranean cuisines like those of Italy and Greece. Dried dates are usually readily available in most markets, and fresh dates can be found in specialty markets in season.
A full grown date palm, or Phoenix dactylifera can reach 82 feet (25 meters) in height, with a spreading crown of greenish leaves. The date fruit grows in heavy clusters suspended under the leaves, and they are yellow in the early ripening stage, or kimri, the Arabic word for unripe. Some consumers enjoy date fruit in the next stage, khalal, meaning full sized but crunchy, while others wait for dates to reach rutab, ripe and soft. When the date fruit is allowed to sun dry on the tree, it is considered to be in the final tamr stage of ripening.
Numerous varietals of date fruit are grown including the coveted Black Sphinx date, along with more common noor and medjool dates. Depending on the variety, the date may be higher in natural sugars, or have an intense honey like flavor. As the date fruit dries, the sugars will concentrate in the dense, moist flesh, ultimately forming sugar crystals on the outside of the date. If a date has formed sugar crystals, it is usually less than ideal to eat, as the flesh will be dry and leathery.
The date fruit is one of the oldest cultivated tree crops, and has been grown for thousands of years. Dates pack well in bags, making them ideal for travelers, and the date palm grows in hostile environments to provide food, fuel, animal fodder, and shelter. Many people eat dates whole, or chop them up for dessert purposes. Often, dates are stuffed with either sweet or savory fillings and served as appetizers at Middle Eastern meals. Dates and mascarpone, along with dates and marzipan, are two popular stuffed date fruit desserts. In the Middle East, dates are frequently made into a paste which can be combined with other fruits and turned into candies or used to decorate food.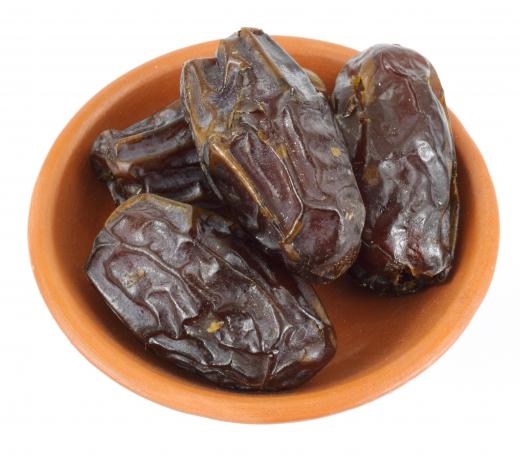 When selecting dates, look for plump, evenly colored specimens. All dates have a single long seed, but they can range in shape from oblong to round, depending on the cultivar. The date should not look dry or withered, and no crystals should appear on the exterior of the date. Fresh dates will last for up to two weeks under refrigeration, while preserved dates can last much longer, depending on how they are preserved.
What do dates taste like?
Date fruits are very sweet and rich tasting without being too sugary. They have a flavor that is similar to brown sugar, molasses, and caramel. Dates can be eaten raw or cooked into a variety of dishes from bread to puddings. The nutritional benefits found in dates make them invaluable as a food source because they contain vitamins, minerals, and fiber to help keep your body healthy.
How many dates to eat per day?
One date fruit contains about 12 grams of date fruit and the number of date seeds inside each date may vary. It's best to eat 100 g of dates or a few dates each day to get all of your required nutrients. It is ideal to consume 100 g. Consuming date fruits raw is preferable, but if you want to use them in cooking or baking then try soaking them for 5 hours first to soften them up.
Do dates need to be refrigerated?
Dates do not need to be refrigerated, however, it is best to store date fruits in a tightly closed container in the pantry. The date seeds will last for many years when stored properly and date fruit can also be frozen if you plan on using them later. Date seeds should not be eaten raw because they contain phytic acid which prevents the body from absorbing minerals. The date seed must first be soaked in water or roasted in order for the body to absorb all of the nutrients and minerals inside the date fruit.
What kind of fruit is a date?
Dates are a sweet and chewy type of dried fruit that originates from the date tree. Dates can be eaten like other dried fruits such as raisins, prunes, and figs. They come in different shapes and sizes depending on where they originate from; there is much debate about where dates originated from because the date palm tree is native to North Africa, South Asia, and the Middle East. This puts their origination right in the center of major food-producing regions in our world today.
Date fruits (also called date varieties) come in many forms including whole fresh dates, chopped dates, pieces or sundried pieces, or any combination thereof. Date fruits.
Are dates fruits or nuts?
Date fruits are a type of stone fruit. Date fruits come from date trees, which are botanically classified as palms. So, date fruits are seeds that grow on date palm trees. The date seeds ripen into date fruits which provide fiber, antioxidants and, essential minerals to the diet.
Are date fruits healthy?
Dates are very good for you! Dates contain many beneficial nutrients including fiber, potassium, magnesium, B vitamins, and iron. The best way to get all these health benefits is to eat date fruit in its whole form. Dates are not just nutritious, but are very tasty too!
How do you eat date fruit?
You can eat a date fruit whole or use these fruits to make date fruit smoothies, date fruit compote, or date fruit salad. You can also soak dates in water for five hours and then blend them into a puree makes an excellent date fruit spread that you can put on toast, muffins, or even oatmeal. Date fruit is great when added to desserts because it adds moisture and natural sweetness without the refined sugars found in other sweeteners. It's delicious when combined with cocoa powder, vanilla extract, and nuts for an easy healthy dessert recipe.
Is a date the same thing as a date palm?
A date is a fruit that grows on a date palm tree. There are many variations of date palms that produce date seeds. Some varieties of date palm trees can grow very tall, while others remain fairly short. There are many types of date fruit that originate from different places around the world. Date fruits range in taste from very sweet to tart depending on where they come from and what type of date palm tree they were grown on.
What is the difference between fresh and dried dates?
Fresh date fruit and dried dates both originate from date palm trees. Fresh date fruit has a firm texture and contains an edible seed that is enclosed in a layer of date fruit pulp. Dry date fruits (aka dried dates) are often made by first removing the pit of the fruit to help the date dry out more evenly.
There are many types of date palms including Deglet Noor, Zahidi, Halawi, Barhi, Khadrawy, and many more varieties that all have their own unique flavor profile. When you buy fresh date fruits they should still have the skin on them and date seeds should be soft with a date fruit center that is still chewy. When date fruits are dried they lose most of their water content and date seeds become firm.
What other countries produce dates?
The leading countries that grow fresh dates include Egypt, Algeria, Iran, Saudi Arabia, Sudan, and the UAE.
Are dates fruit or a vegetable?
There are several classifications of dates. There are soft dates, semi-dry dates, and dry dates. Date fruits are classified as either "fresh" if they have not been dehydrated or "dry" if they have been dehydrated. Dried dates are classified as being in the dried fruits category with raisins, currants, apricots, and mangoes, among others. A date is a stone fruit, meaning it has a single seed, surrounded by outer fleshy fruit.
AS FEATURED ON:
AS FEATURED ON:








Dried date fruit.

Dates growing on a date palm.

By: Bert Folsom

A bowl of medjool dates.

By: Ruslan Olinchuk

Date palms are native to northern Africa and the Middle East.