Onion chips are fried snacks that are often made as an alternative to potato chips. They are typically cooked in either a deep fryer or baked in an oven depending on different recipes. Many cooks like onion chips for their flavor and easy preparation. Cooking with onion also leaves plenty of room for creativity when it comes to adding spices and seasonings. Some snack food brands include onion chip varieties, though many dedicated home cooks prefer to make their own versions.
Fried onion chips can be favorite snacks for a low-carbohydrate eating plan because they are not made from the starch-heavy white potatoes that comprise many homemade potato chip recipes. These recipes can still have higher amounts of saturated fat depending on the type of oil used. Onion chips can be coated in batter and deep-fried in canola, vegetable, or coconut oil depending on different preferences. Cooking the chips can be done relatively quickly with a countertop deep fryer that includes a fry basket. Each basket of chips usually takes only about three minutes until the chips are golden brown.
Sweet onions are often favorites for onion chip recipes, and many cooks like to use Vidalia, Walla Walla, or sweet red onions. Yellow onions are other alternatives for recipes with milder flavors. Homemade onion chips usually differ from fried onion rings in both the type of onion used and how the cook slices it. The pieces of onion are usually cut into small strips rather than rings before being coated with batter.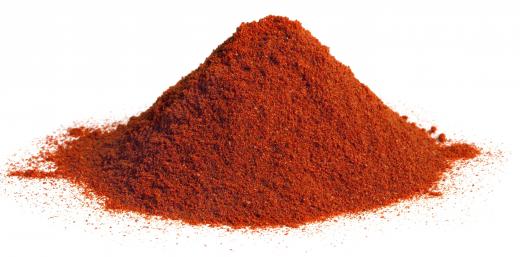 Recipes for onion chip batter can vary by flavor preference. Some raw onion chips are coated with a simple mixture of cornstarch, water, and salt. Other combinations can include cooking lard, all-purpose flour, milk, and even crushed bits of potato chips if preferred. Some cooks also like to sprinkle the battered onion pieces with their favorite seasonings such as garlic salt, chili powder, dried dill, or black pepper.
Baking is an alternative to frying crispy onion chips for cooks who may not have deep fryers or who may prefer lower-fat snacks. This kind of recipe usually entails spreading the batter-dipped pieces of onion on a cookie sheet that has been coated with cooking oil to prevent any of the chips from sticking. Baking with onion for these chips is normally done at an oven temperature of around 450° F (about 232° C) for approximately eight minutes on average.
AS FEATURED ON:
AS FEATURED ON:








Onions.

Chili powder can be sprinkled over onion chips.

By: Bombaert Patrick

Onions cooked in a deep fryer a simple to prepare.

By: bergamont

Sweet red onions are often used to make onion chips.