What are Vegetable Chips?
Vegetable chips are thin slices of vegetables which are deep fried or baked until they are crisp. One famous type of vegetable chip is the potato chip, a favorite all over the world. Vegetable chips can be made from a wide assortment of vegetables, and they can also be seasoned and flavored to taste. Many markets carry these chips, and they often include regional foods and flavors to appeal to the local market.
This food was probably invented at around the same time as potato chips in the 1800s, although obviously people have been frying or baking slices of vegetables for much longer. However, these wedges of vegetables would have been soft, rather than crisp; finely cut, crisp chips do not appear in culinary records before the 19th century.
Chips can obviously be made with potatoes, but they can also be made with carrots, beets, yams, taro, sweet potatoes, and parsnips. Undoubtedly, enterprising cooks have made vegetable chips with other vegetables, including those which are not widely known outside of the small areas where they are grown. Depending on the vegetable, the skin may be left off or on, and the thickness of the cut may vary; carrot chips, for example, are often quite thick, while sweet potato chips may be very thin.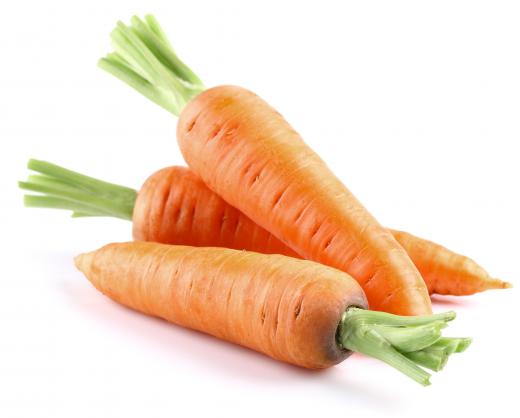 After vegetable chips have been fried, they can be seasoned. Spicy seasonings are often added to the finished product, along with mixtures of herbs, but other seasonings can be used as well, including tamari sauce, various cheeses, and mustard, among many others. They can be eaten plain or dipped in various substances for additional flavor, and they may be used like potato chips in recipes.
Vegetable chips can be eaten hot or at room temperature. When well prepared, they should not taste greasy, with a light, crispy flavor which can make it tempting to eat a lot of them. Some people prefer mixed vegetable chips to potato chips, either for flavor or nutritional reasons. They are sometimes more nutritionally diverse in terms of the vitamins and minerals they offer, but when deep fried, they are just as potentially unhealthy as regular potato chips.
AS FEATURED ON:
AS FEATURED ON:








By: Ovidiu Iordachi

Vegetables.

By: Dionisvera

Vegetable chips can be made with carrots.

By: mates

Vegetable chips can be made from beets.

By: Jiri Hera

Potato chips are very popular vegetable chips.

By: Bill

Yams can be sliced to make vegetable chips.