What Are Raspberry Chips?
There are a couple of different types of raspberry chips, or raspberry baking chips, that cooks can use in a variety of baked goods. The most basic types are made from raspberries, sugar, oil, flour, and corn starch. Other chips may be made from chocolate that is flavored with raspberry pur&eacutee. Though real raspberries are often used in raspberry chips, it is possible to flavor the chips with other natural or artificial flavors.
Raspberry chips are similar to chocolate chips in texture, size, and use. They come in small pieces, usually only about a third of an inch (less than 1 cm) across. Their size allows them to be easily mixed into batter without being chopped or broken. After the batter has finished cooking, the chips are usually evenly distributed throughout, creating a dish with lots of small pockets of raspberry flavor. Like chocolate chips, raspberry chips will melt as they are cooking, firming up again as they cool.
Plain raspberry chips are made from a mixture of sugar, corn syrup, raspberries or raspberry flavoring, and binding agents such as flour and oil. There is not usually enough raspberry in these chips to make them red or pink, so food dye is often added. The ingredients in the chips are blended together, and the chips are cooked and allowed to firm up in the shape of small droplets. These chips can then be packaged, sold, and used as raspberry baking chips.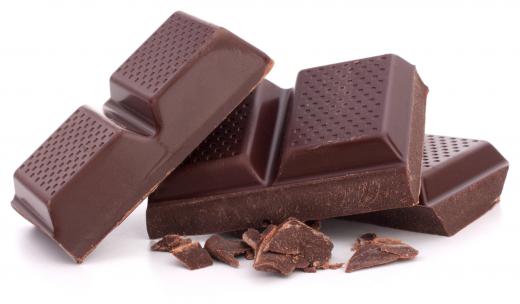 Alternatively, raspberry flavoring can be added to chocolate chips to make chocolate raspberry chips. These chips are often flavored with real and artificial raspberry, but are not dyed because of the dark color of the chocolate. Chocolate can be easily formed into chips, so adding raspberry to the chocolate mix means that many of the other ingredients, such as corn syrup and flour, can be left out of the chips.
The most common use for raspberry chips is in cakes, cookies, muffins, and other baked goods. Raspberry is a fruit that is often used in baking, but it does not have a long growing season, making it difficult to find and relatively expensive for much of the year. Many dishes that call for fresh raspberries can make use of raspberry chips instead, saving cooks money and allowing them to make raspberry dishes year-round. It is also possible to throw a handful of these chips into a trail mix, especially one that uses chocolate, almonds, and other dried fruits as these flavors go well with raspberry.
AS FEATURED ON:
AS FEATURED ON:








By: Sea Wave

Corn starch is one of the ingredients used to make raspberry chips.

By: Natika

Chocolate may be melted and mixed with raspberry puree to make raspberry chips.

By: dmytromykhailov

Of the various types of raspberry chips, the berry is a key ingredient.