Rice flakes are a product made by parboiling rice, then flattening the grains to product a solid flake. There are a number of flake recipes used in Asian cuisine, while in Western countries, these flakes are often used to in cereals and different types of snacks.
The creation of rice flakes begins with parboiling rice, which helps to soften the grain and prepare it for processing. Once the rice is tender, the cooked grains are rolled, then flattened. The thickness of the flattened rice will depend on the amount of pressure that is applied.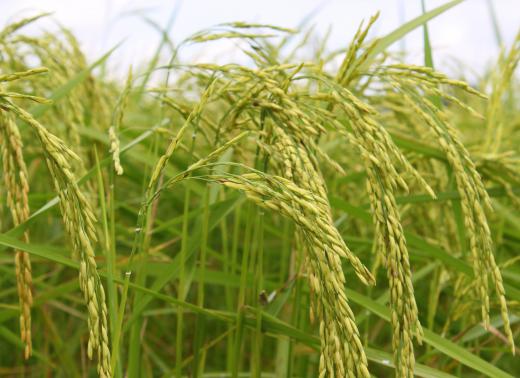 After the mixture is the desired thickness, the flattened rice is allowed to dry completely. The dried sheets are then sent through another roller to create simple flakes. At this point in the process, the flakes may be packaged for use as a dry cereal, used as an ingredient in recipes for a side dish, or used to create desserts or even snack foods.
One common use of rice flakes is to create a simple dessert that is somewhat similar to the rice pudding commonly served in Western countries. This approach involves adding milk and sugar to the rice and allowing it to steep in the mixture for a short time. The consistency of the finished dish is somewhat like that of cooked oatmeal.
The flakes can also be mixed with other dried grain flakes to create a tasty breakfast cereal. When combined with nuts and dried fruit, the they can also serve as a healthy snack alternative.
A traditional dish using rice flakes is known as banh com in Vietnam. Rice is harvested directly from the fields, and rather than being parboiled, it is roasted and then flattened by hand using a mortar and pestle. This helps to remove the husk or hull of the rice grain. A range of spices is added to the flakes and the mixture is cooked long enough to allow the flavors to mingle.
While these flakes have traditionally been associated with food preparation in Eastern countries, the flakes have become more readily available in the West in recent years. It is possible to purchase packaged products in most grocery stores and supermarkets that carry Asian foods. In addition, many health food stores carry them as both a cereal and a healthy ingredient for various types of vegetarian dishes.
AS FEATURED ON:
AS FEATURED ON:








Rice plants.