Soba noodles are Japanese thin noodles made of at least 30% buckwheat. Since buckwheat has a tendency not to adhere closely, the noodles also include regular wheat flower. They look very much like spaghetti noodles except they are a light brown in color. They are quite popular in Japan and gaining popularity in many other places. They also form the basis for many traditional Japanese dishes.
These noodles can be served hot or cold. They often form the basis for traditional cold dishes, including soba topped with Japanese yams, daikon radishes, sliced okra, or fermented soybeans. Hot noodles are frequently served in soup. In particular, hot tsuyu is a thinned version of cold tsuyu that serves as a dipping sauce for cold soba noodles.
The noodles may be served in other types of broth, topped with scallions or fish cakes. Alternately, hot ones may form the base for serving tempura, deep fried vegetables and prawns, deep fried tofu, or a raw egg that becomes poached in the hot liquid of a broth.
On New Years Eve, soba noodles are served quite often. Japanese custom demands one slurp them in a noisy fashion, as this is considered polite. In America, it used to be customary to give bread to new homeowners as a means for welcoming them into their home. In Japan, traditionally, uncooked soba noodles were given when families would move into or purchase a new house.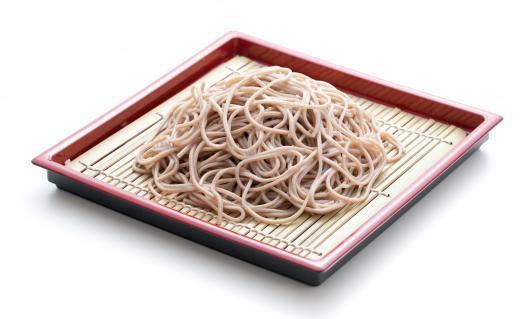 Soba noodles are distinct from another quite popular form of noodle called udon, which are much thicker, somewhat equivalent to the thickness of fettuccine. Udon is often made exclusively of wheat, rather than a mix of buckwheat and wheat. The popularity of each type tends to be regional. Soba noodles are more popular in certain areas of Japan than the thicker noodles; in Tokyo, for example, soba tends to be preferred to udon.
Small cafes and little stands at train stations are popular spots for grabbing a quick dish of hot or cold noodles. Many people also make them at home and can easily purchase them dried from grocery stores. Both soba and udon may be offered in local cafes.
Some European chefs have integrated soba noodles into fusion cooking recipes, blending eastern tastes with western. Some dishes include seared meat like turkey cutlets over hot noodles, pasta salad made with sun-dried tomatoes, pine nuts and soba, or soba served as a bed for pan-fried pancetta.
Many outside of Japan find the taste delightful, though some prefer to eat them hot. They are often considered somewhat sweet and nutty. Many feel they are superior to Italian pasta because they have a more distinctive taste than lends flavor to prepared dishes.
AS FEATURED ON:
AS FEATURED ON:








Soba noodles are made with buckwheat flour, which contains vitamin P.

Plate of cooked soba noodles.

By: Vidady

Flour from the buckwheat plant is used to make the Japanese soba noodle.

By: posh

Soba noodles can be topped with daikon.

By: s4sanchita

Sliced okra is often used on soba noodles.