Spring rolls are made by wrapping an assortment of ingredients in a pastry and then steaming or frying the resulting roll. They are closely associated with Asian cuisine, since several Asian nations make variations on the basic form. Some people also call them egg rolls, using the two terms interchangeably. Other people prefer to use "egg roll" to refer to heavier versions of the dish that are wrapped in dense pastry, and "spring roll" for lighter rolls that often have paper-thin wrappers and a more delicate flavor.
In China, spring rolls are closely associated with the Spring Festival, which explains the origin of their name. The Spring Festival celebrates the new year and new growth, and many foods are served during the multi-day festival to get celebrants in the mood. Traditional rolls have fresh vegetables, green shoots, and light wrappers so that they have a delicate flavor and a light texture that is meant to evoke spring.
Chinese cuisine is not the only cuisine with this type of dish, however. It also appears in Vietnamese cuisine, often wrapped in a thin sheet of rice pastry, rather than a wheat-based one. Vietnamese spring rolls may also be served raw as an appetizer, instead of being fried. Thai food also has a version, also wrapped in rice pastry and frequently served steamed.
Traditionally, the rolls are served with dipping sauces. Soy sauce is a common accompaniment, but cooks may also make dipping sauces like sweet plum sauce, or use spicy ingredients such as chilies and mustard. Sweet sauces are often served with fried rolls, as the sweetness pairs well with the oil, while more mild sauces are served with steamed and raw varieties.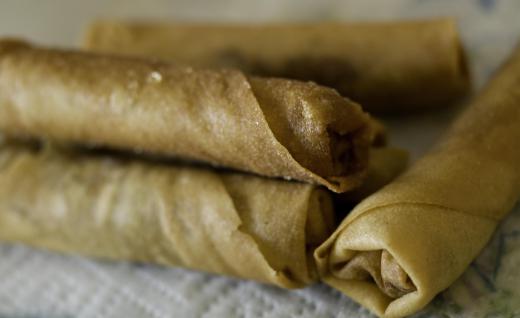 Making spring rolls at home is very easy. A cook can start by purchasing wrappers, which may be made from thin wheat-based pastry, rice dough, or other ingredients. He can chop an assortment of vegetables and meats, if desired, to fill each individual wrapper. A small mound of ingredients can be placed in the middle of each wrapper, then the cook can roll them up, tucking in the ends partway through so that the roll will be like a tight pocket.
If only fresh vegetables are used, some people like to serve the rolls raw. They can also be lightly steamed or sauteed for a more fully cooked flavor and less of a crunchy texture. If meats are used, they must be cooked long enough so that the meat is completely cooked. The rolls can be served with an assortment of dipping sauces as an appetizer.
AS FEATURED ON:
AS FEATURED ON:








By: Prashant ZI

Plum sauce, which is often used as a dip for spring rolls.

By: paul_brighton

Spring rolls are popular Asian appetizers containing various meats and vegetables.

By: Jose Gil

Spring rolls are more commonly known as lumpia in Indonesia and the Philippines.