Almost every national cuisine has some kind of wrap dish. The French have crepes, the Spanish have empanadas, Mexico has burritos and China has egg rolls. Actually, egg rolls are seen in one form or another, in nearly every variety of Asian food.
Egg rolls are those tasty wraps filled with meat and chopped vegetables, wrapped in a dough sheet and fried. The "egg" comes from the fact the dough sheet may be brushed with an egg wash, first. Egg rolls are usually made from a wheat-based dough, while their cousins, spring rolls, are often made from a rice flour dough.
The Cantonese cuisine of Southern China has most influenced Chinese food in America and egg rolls are a good example. Cantonese food is more often fried, as are egg rolls. Egg rolls are often served with a combination dinner in Chinese restaurants, and large ones make a good lunch, along with a bowl of soup.
Every Chinese restaurant has its own egg roll recipes. Some focus more on meat, some on vegetables. Some restaurants serve a spicy version. Recipes and techniques are widely available online for the cook who is feeling adventurous.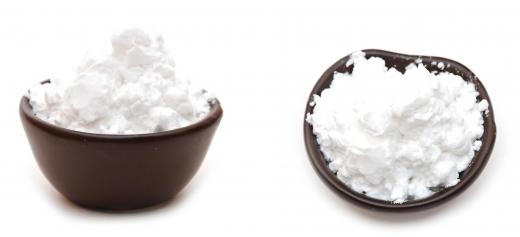 A standard recipe for egg rolls calls for Napa cabbage, water chestnuts, onions, bean sprouts and diced pork or small shrimp. The ingredients are stir fried first, and seasonings and sauce are added. The filling is then drained a bit and allowed to cool.
The cook then lays out egg roll wraps and fills them with the cooled ingredients. Egg rolls may be wrapped in a variety of ways, but the most common way is to put a large spoonful of filling at the short end of the wrap, and then rolling it up, tucking in the ends, and sealing the seam with a "glue" made of cornstarch and water. The rolls are then deep fried.
Although somewhat labor intensive, many cooks say egg rolls are worth the effort. The homemade kind, they say, are far superior to those in a restaurant, and certainly better than anything from a box.
AS FEATURED ON:
AS FEATURED ON:








By: rafcha

Mung bean sprouts, which are often included in egg rolls.

By: vadim yerofeyev

Cornstarch, which is often used to make egg rolls.

By: paul_brighton

Egg rolls are popular Asian appetizers containing various meats, seafood and vegetables.

By: Pangfolio.com

Asian cuisine is commonly served with egg rolls.

By: Jose Gil

Lumpia are a type of egg roll popular in Indonesia and the Philippines.