What are the Benefits of a Silicone Spatula?
A silicone spatula combines the flexibility of a traditional rubber spatula with the heat-resistant qualities of a metal kitchen utensil. Spatulas are especially useful for mixing wet and dry ingredients together, as well as scraping the sides of mixing bowls. Silicone is especially suited for these kitchen tasks because of its smooth edges and sturdiness.
One obvious benefit of using a silicone spatula is heat resistance. Although silicone may look like plastic or rubber, it has a very high melting point. Silicone spatulas can be used to stir extremely hot mixtures or remove food directly from roasting or frying pans. Accidental exposure to heat can permanently damage rubber or plastic kitchen utensils, but a silicone spatula head won't even become knicked or warped.
Another benefit of a silicone spatula is safety around other cookware. Unlike metal spatulas, silicone will not damage Teflon® or other non-stick coatings. A metal pot or pan could be ruined by a melting rubber or plastic spatula, but silicone will not scorch or melt at normal cooking temperatures. Silicone is also soft and pliable, which means it will maintain its original shape. Metal spatulas may warp or bend over time, which makes them less reliable when used in precision cooking.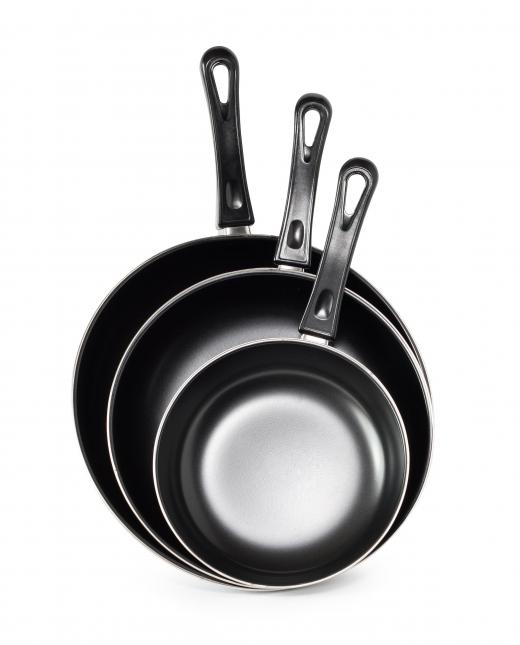 Silicone spatulas are often sold in various sizes, so cooks can select the utensil which best suits their immediate needs. Silicone spatulas are also dishwasher-safe and will not rust or discolor. Because it is naturally non-stick, silicone will not transfer any unpleasant tastes to the food it contacts. Occasionally the handles of other types of spatulas are not made from heat-resistant materials, so they could accidentally melt and contaminate food. Handles for most silicone kitchen utensils are made from Lexan® — a special plastic used for high temperature situations. Silicone spatulas will last for years without losing their original strength or shape.
Silicone spatulas have become a common kitchen utensil and are available at kitchen supply stores and via many online outlets.
AS FEATURED ON:
AS FEATURED ON:








By: JJAVA

Silicone spatulas are dishwasher safe.

By: cosma

Silicone spatula will not scratch the non-stick coating on pots and pans.

By: rigamondis

Silicone spatulas are more flexible.

By: sevenk

Silicone utensils such as spatulas are heat resistant, yet soft and flexible.