What Are the Best Foods for a Relish Tray?
A relish tray usually includes raw or pickled vegetables. Some dishes also feature a dip in the center for serving with the offered foods. A few of the selections may be stuffed, such as olives stuffed with pimentos or celery sticks filled with soft cheese. Foods on a relish tray can have a theme, such as an all-Italian, antipasto-style plate, or they can be a random assortment of veggies.
Relish trays are like appetizers, and are often set out before a large meal, such as Thanksgiving dinner in the United States. The best foods for use on a relish tray are finger foods that will whet guests' appetites, and won't spoil the main meal. Usually, the actual trays are decorative and may have sections to hold each different food item.
Pickles are commonly found on a relish tray. Classic offerings include sweet gherkins or bread-and-butter chips, as well as slices of pickled beets or pearl onions. A more modern and contemporary take on a relish tray may feature pickled artichoke hearts, carrots, or marinated mushrooms.
Olives usually also make an appearance on a relish tray. These small fruits typically come from a jar or can, and are either the whole, black variety or stuffed green olives. For variety, freshness, and flavor, some people may decide to select these from an olive bar at a grocery store instead of jarred or canned olives.
Bite-sized raw vegetables are also a good choice for a relish tray. For this reason, cherry tomatoes are ideal, as they do not need to be cut up before serving. Baby carrots are another good choice for the tray.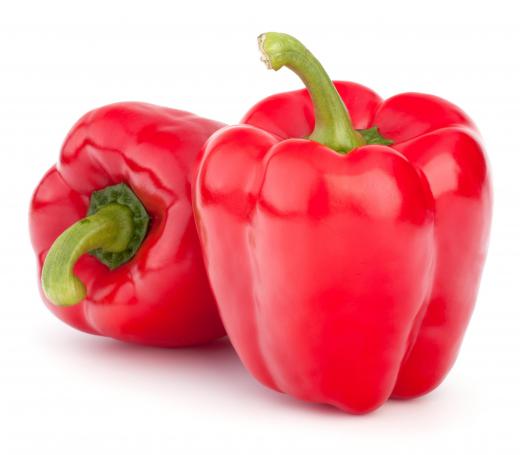 Cut, raw vegetables that often make an appearance on relish trays include bell pepper slices, sliced radishes, and celery sticks. Some people serve the celery plain, while others choose to stuff it with cream cheese, peanut butter, or pimento cheese. Raw broccoli or cauliflower florets also work well in this dish.
To enhance the flavor of plain raw vegetables, a cook may decide to put a dip on the tray as well. Sour cream-based dips, such as a Ranch or French Onion, are popular options. Another, more modern option is to set out a bowl of hummus with the tray.
It is possible to choose a theme for the tray. An Italian-themed tray, for example, may feature slices of roasted red pepper, marinated artichoke hearts, and spicy pickled pepperocini. To contrast the sweet flavors of some of the vegetables, a person may include salty anchovies on such an antipasto-style tray.
AS FEATURED ON:
AS FEATURED ON:








By: Magdalena Gieniusz

Sweet red peppers, which can be roasted and added to a relish tray.

By: Natika

Sliced red bell peppers can add a dash of color to a relish tray.

By: ChantalS

Sweet gherkins are common on a relish tray.

By: Diana Taliun

Stuffed green olives make tasty additions to a relish tray.

By: Viktorija

Pickled beets often make tasty additions to a relish tray.

By: andersphoto

Celery sticks are often included on relish trays.

By: Louella Folsom

Sliced bread and butter pickles might be added to a relish tray.