Hummus is a middle-eastern food composed of chickpeas, or garbanzo beans, and tahini, a paste similar in texture to peanut butter that is made from sesame seeds. Hummus is typically eaten with pita or other flat bread.
Because both chickpeas and sesame seeds are wonderfully healthful, hummus is a nutritionist's delight. Chickpeas are a good source of protein, potassium and fiber. Sesame seeds are also a source of protein, along with vitamin E and a powerful antioxidant. So when you blend them together into hummus, you're really cooking!
You can buy this food in the deli section of the grocery store, but it's so easy to make yourself and you can adjust the flavors just like you want it. You may have to buy the tahini paste from a middle-eastern grocery store or online. If you are feeling adventurous, you can even make your own tahini from sesame seeds and vegetable oil.
To makeit, no cooking is required -- just a food processor. Drain a can or two of chickpeas. In this instance, the canned variety is preferred over cooking your own from dried garbanzos. They mash up better than their more freshly prepared equivalents. Dump the chickpeas in your food processor and puree them.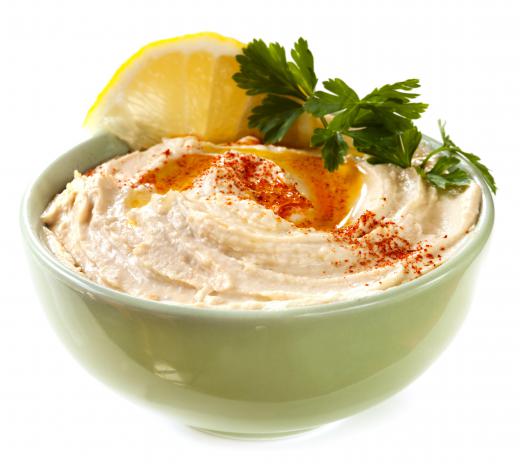 Tahini should be about a fifth to a quarter of the total, so if you have two cups of pureed chickpeas, add about a half cup of tahini paste. Throw in a few peeled cloves of garlic. Don't hesitate to taste as you go, and add ingredients incrementally -- that way if you get too little garlic in, you can add more, but it's hard to take out the garlic that's already there. Add some lemon juice for zing -- a quarter cup or more. If the paste is too stiff, adding a little water or olive oil to the processor will soften it right up.
Now that you have your hummus, toast some flatbread or heat some tortillas in a warm oven and dig in. You can use it as a sandwich spread, as a veggie dip or on crackers. Fun stir-ins can include olives, green and black; pine nuts; diced crispy vegetables such as cucumbers or celery... the list is only limited by your imagination and tastes. Now enjoy your hummus and know you are getting valuable protein, fiber and antioxidants at the same time.
AS FEATURED ON:
AS FEATURED ON:








By: Nika Novak

A bowl of dried chickpeas, an important ingredient in hummus.

Bowl of hummus drizzled with olive oil and sprinkled with paprika.

Pita bread, which is often served with hummus.

By: Britta Laser

Lemon juice can add flavor to hummus.

By: Schlierner

Garlic is used in making humus.

By: margo555

Chopped green or black olives are common additions to garlicky hummus.