What are the Different Kinds of Vinegar?
Vinegar is an ancient condiment which has been used to flavor and preserve food for centuries. It is made by fermenting fruits or grains past the alcohol stage, until they sour and form acetic acid. There are numerous types, usually named after the substance used as a base, and with varying flavors. Many cooks stock multiple kinds of vinegar in the cupboard to flavor various dishes, and some cooks may also flavor it with the addition of herbs, flowers, or fruits.
The most common examples are cider, balsamic, rice, and white vinegars. There are numerous other types, as almost any type of fruit can be fermented into this condiment. In some Asian cuisines, coconut vinegar is popular, while honey, cane, and date varieties are made in other parts of the world. All types share a sour flavor, thanks to the acetic acid, and higher levels of the acid can also be used to preserve food so that it will not go bad.
Cider vinegar is typically made from apples, and is created by crushing apples in a press to make juice, which is fermented into cider and allowed to age. It tends to be brownish yellow in color, with a mild flavor, and some people also believe that it has health benefits. Cider vinegar is frequently used in dressing, and is closely related to wine vinegar.
The wine variety, however, is more mellow, and has a wider range of flavors, because the taste and quality depends entirely on the wine used. This is probably the oldest type, given that the name "vinegar" is derived from a French term, vin aigre, or "soured wine."
Balsamic vinegar is a product of Italy, primarily from Modena, made with white Trebbiano grapes which are pressed and aged in barrels. It is highly aromatic and has complex flavor, thanks to the long aging. This variety tends to be somewhat sweeter, and is used in dressings, sauces, and desserts. It can be used as a topping vanilla ice cream, for example, and is actually quite delicious.
White vinegar is made by oxidizing distilled grain alcohol. It tends to be the most aggressive in sourness, with a flat and uninteresting flavor. Some cooks use it in particular dishes, and it is also highly useful as a cleaning fluid. Another grain derived type, malt vinegar, is made by malting barley, fermenting it into an ale, and then allowing the ale to turn into vinegar. It has a much more complex flavor, thanks to the inclusion of malted barley, and is popular in England especially.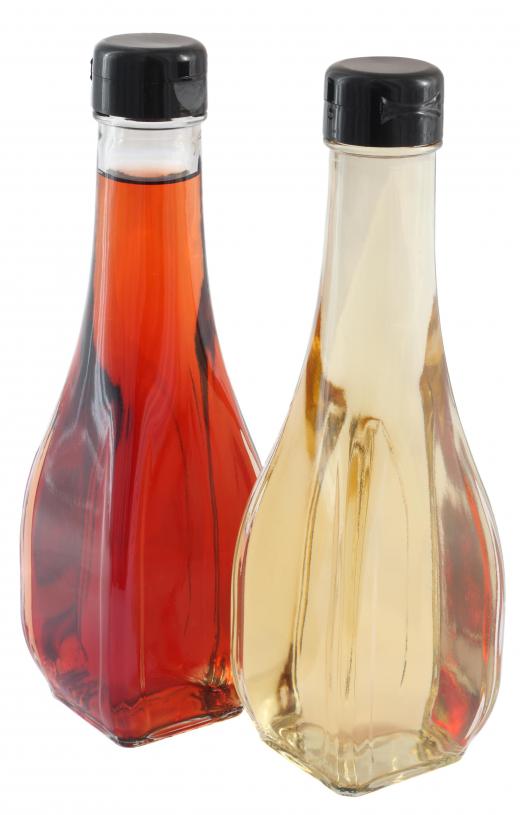 Many Asian foods call for rice vinegar, which is made with a base of rice. This type is usually quite mild, with a gentle flavor that compliments Japanese and Chinese cuisine. Different types are available, made with black, red, or white rice, and sometimes fortified with rice wine. Because of the mild flavor, it can take some time to adjust to the differences between Western and rice versions.
AS FEATURED ON:
AS FEATURED ON:








By: Picture Partners

White, cider and balsamic vinegar.

Malt vinegar is made with barley.

By: Roman Ivaschenko

Apple cider vinegar.

By: GeoM

Red and white vinegar.

By: quayside

Red wine vinegar can be used for cooking in a variety of ways.

By: xiangdong Li

Cider vinegar is typically made from apples.