What Are the Different Types of Birthday Desserts?
Birthday desserts come in a wide variety of types, including cakes, frozen treats, and smaller baked goods. Candy and seasonal eats may be served as well. The birthday cake is perhaps the most common dessert in Western cultures, and, in places like North America, ice cream often accompanies it. This tradition dates back to the 15th century in Germany and has evolved over the years.
Cakes are often the centerpiece of birthday desserts in western culture. A large cake big enough to serve all guests is baked or purchased. Various flavors and styles exist, ranging from simple chocolate single-layer pastries to elaborate theme-cakes with a variety of flavors and frostings.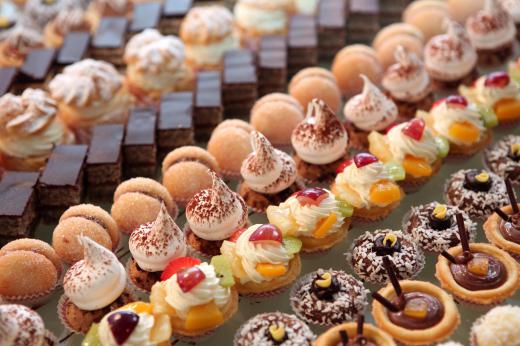 Frozen treats offer another option for birthday desserts. Hard-packed ice cream is usually served with birthday cake in North America. Flavors are as numerous as the types of cakes that they accompany. Individual frozen treats may be served at parties with a large number of guests or at an outdoor festivity. Pre-packed ice cream cones, sandwiches, and cups can be easily transported, stored on ice, or in a freezer and handed out quickly as well.
Baked goods and cookies may replace or supplement the traditional cake and ice cream dessert. Cookies, sweet breads, and even doughnuts may be served. Cupcakes are frequent substitutions for birthday cakes, being clustered together, then distributed to individuals after the candles are blown out. A single cupcake with a candle on it is sometimes given to the birthday person for a smaller get-together or as a gift.
Birthday desserts might include different types of candy. The treats are typically given in goodie bags along with small toys or prizes during or after a children's party. Cultural variations exist, as in the Mexican tradition of the piñata, where a paper mâché animal or figure is filled with candy. Children are blindfolded, turned around several times, and try to break the piñata open with a stick to release the candy for everyone to enjoy.
If a birthday coincides with a festive holiday, desserts may include seasonal treats. The Christmas holidays may bring pumpkin, peppermint, or eggnog, for instance. Birthday desserts for for a Halloween-themed party will likely be decorated with ghoulish motifs.
The practice of preparing cakes during birthdays and other celebration dates back to Ancient Rome. Bakers first began to market cakes designated for birthdays in Germany during the 1400s, and, by the 18th century, topping them with lit candles was common. Candles may be blown out after singing "Happy Birthday" or another celebratory tune.
AS FEATURED ON:
AS FEATURED ON:








By: Gordana Sermek

Various types of desserts.

By: Ruth Black

A cupcake.

By: NSfotogyrl

Birthday candles may be featured on birthday desserts.

By: torbakhopper

Homemade cookies are often served as birthday desserts.

By: Petro Feketa

The tradition of baking cakes to celebrate birthdays dates back to Ancient Rome.

By: bst2012

The Mexican tradition of breaking open a piñata is a form of serving birthday desserts.

By: jamierogers1

Pie might be served at a birthday party instead of a cake.

By: pilipphoto

Serving chocolate mousse would make for a non-traditional birthday dessert option.

By: Constantinos

It's customary to put candles on any kind of birthday dessert.