Mud cake, also referred to as Mississippi mud cake or mud pie, is a type of chocolate cake made in virtually endless variations. There is no standard recipe for this cake. It is believed to have originated in the 1970s and 1980s in the American South, and some say it is baked to resemble the mud along the banks of the Mississippi River. Mud cakes function well as birthday cakes, holiday cakes, or even in cupcake form. Some people use them for their wedding cakes, though they often need to be a little denser than usual to accept extra layers, heavy icing, or decorations.
Mud cake or mud pie generally refers to a baked dessert made of dark chocolate cake and dark chocolate icing. The cake typically has a very moist, crumbly texture that tends not to hold its shape very well. The cake is typically fairly dense, and is often made either in sheet cake form or in a bundt pan, though other options work as well. Technically, this type of cake could be made in a pan of any shape, such as a cartoon character for a child's birthday.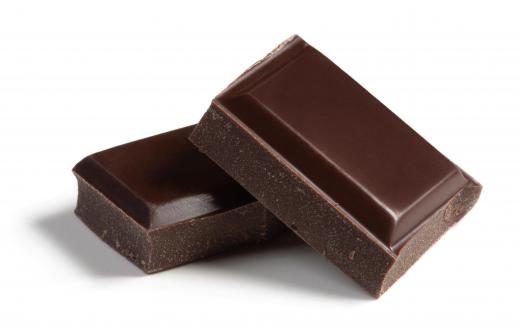 The basic recipe for mud cake is similar to any other cake, and includes the usual ingredients of baking chocolate, eggs, flour, sugar, oil, and vanilla, among others. Searching online or looking in cookbooks will bring up dozens of cake recipes to try, with specific instructions for the ingredients to use and the amount of time to bake the cake. In addition to the standard cake ingredients, this cake can easily be customized to suit anyone's tastes.
There are many additions to various recipes of mud cake. Some of these may include coffee, marshmallows, pecans, walnuts, caramel, bourbon, or even fruit fillings such as cherry or pineapple. Many of these cakes often have a slight mocha flavor. Recipes for this type of cake can easily be customized to the preferences of a person or family. It is also often delicious to add a warm fudge sauce or raspberry sauce to the top of the cake just before serving it, along with a scoop of ice cream.
Mud cake also lends itself well to children's birthday parties or picnics. Crumbled chocolate cookies make an excellent addition, and can make the top of the cake look like "dirt." For the full effect, gummi worms are also a fun addition that may kids enjoy, especially for Halloween. Most people make their own icings for their mud cakes, and they may be made with marshmallows as well as powdered sugar, whipped cream, cocoa powder, or any other preferred ingredients.
AS FEATURED ON:
AS FEATURED ON:








By: Andris T

Melted baking chocolate is typically used in mud cake.

By: Malyshchyts Viktar

Pineapple can be added to a mud cake.

By: Michael Gray

There is no standard mud cake recipe.

By: razmarinka

Some Mississippi mud cakes have a consistency similar to molten lava cakes.

By: eAlisa

Some mud cake recipes feature nuts, like pecans.