What Are the Different Types of Cooking Pots?
There are several types of cooking pots, each of which has advantages and disadvantages. The most common types of cooking pots are made from stainless steel, copper, aluminum, cast iron, ceramic, or glass. Some manufacturers may also use more than one of these materials.
Stainless steel pots are a popular choice for many cooks. These pots are very strong and durable, and they rarely become scratched or dented. They are also considered to be rather easy to clean.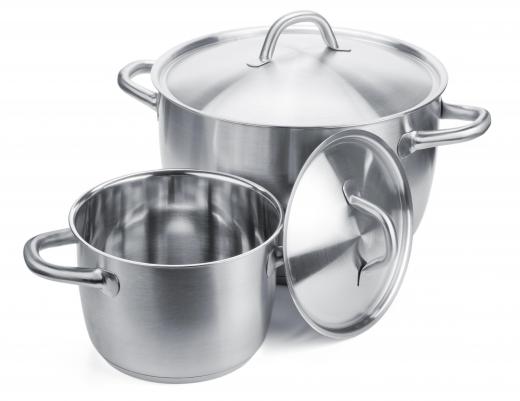 Cooking with these types of pots does not cause a chemical reaction with food, which can change the taste or color of a dish. Stainless steel, however, is a poor conductor of heat. This can cause a pot to heat slowly. It can also cause the pot to heat unevenly, creating some spots that are hotter than others. To improve this, some stainless steel pots are covered with a thin layer of copper on the bottom.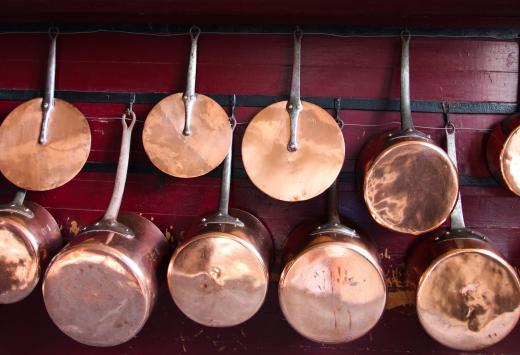 Copper cooking pots are often used by professional chefs. This type of metal is an excellent heat conductor, and this helps create even temperatures across the cooking surfaces. The shiny copper surface can make an elegant addition to any kitchen, but it is hard to maintain. Typically, copper pots and pans need to be polished on a regular basis. They are also a little more expensive than other types of cookware.
When it comes to price, anodized aluminum cooking pots are on the other end of the spectrum. These types of pots are typically very affordable. They are also rather lightweight, and they heat up quickly. Non-anodized aluminum can chemically react with certain foods, however, creating unpleasant tastes and colors.
Cast iron cooking pots may also react with certain foods, especially acidic foods. This metal heats up very slowly, but it provides an evenly heated surface. It can also be heated to very high temperatures with no adverse reactions.
Since cast iron is porous, pots made from this material are prone to rusting. Untreated cast iron cookware can also cause food to stick. To prevent this, the pots need to be seasoned. This is usually done by wiping lard on it before heating it an oven.
To prevent food from sticking to metal cooking pots, some manufacturers add a layer of polytetrafluoroethylene. Pots and pans that are coated with this substance are generally easier to clean, but the substance can be toxic if it decomposes. Some metal pots are also covered with enamel, or porcelain, to prevent food from sticking
Clay and ceramic cooking pots are also available. Glazed surfaces, like porcelain, will create a non-stick cooking surface. Unglazed clay pots are quite porous, and they are often used to add moisture to food.
Some individuals prefer to use glass cookware. These cooking pots are translucent, which allows a person to monitor the food during the cooking process. It can shatter, however, during temperature changes. A combination of glass and ceramic is sometimes used for pots as well. This composite material is less likely to break when heated or cooled too quickly.
AS FEATURED ON:
AS FEATURED ON:








By: karandaev

Stainless steel pots are durable, although they conduct heat poorly.

By: akulamatiau

Copper cookware conducts heat well.

By: JackF

The electric appliance known as a rice cooker has been available in Asia for 35 to 40 years, but it is just now gaining popularity in the United States.

By: karam miri

Many experts agree that using aluminum cookware may pose some health risks.