A stockpot is a type of cookware used on the stove top to make a large quantity of soup stock. This type of soup pot has a tight fitting lid and a heavy, thick bottom to prevent the ingredients from scorching and burning. It also has sturdy handles screwed or riveted to each side that are used to lift and move the pan. In addition to soups, stockpots are also frequently used to make stews, sauces, and just about anything that is cooked on top of the stove requiring a big pot. When purchasing a stockpot, it would be practical to select one that may be used for cooking many different types of food.
Stockpots range in size to hold from a 6 quart saucepan size to as much as 20 quarts. These are sold separately or in sets. Much larger sizes are available, but these are generally for commercial kitchens. Several different metals are used to make these types of pots including stainless steel, copper, aluminum, cast iron, and enameled steel. Stainless steel and aluminum tend to be less expensive, while copper and cast iron can be quite costly.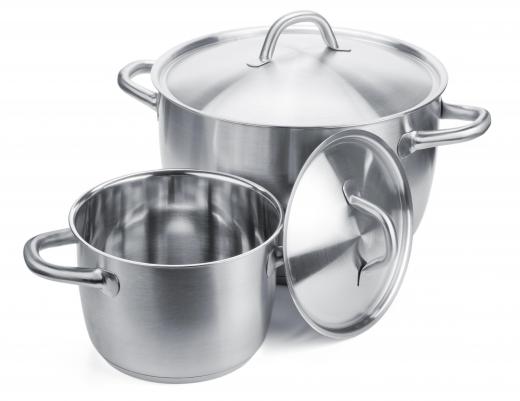 The type of stockpot used depends on the type of stove it is to be used on. Larger stockpots can be very heavy and should not be used on newer, glass topped electric stoves. Lighter weight materials are best for these types of stoves, while just about any type of stock pan can be appropriate for gas stoves because they can handle heavier weights.
Stockpots are often used for recipes requiring slow cooking at very low temperatures. Inexpensive enameled steel or aluminum may burn, even on low heat. Cast iron heats very slowly and evenly, though it can be cumbersome to use and extremely heavy. A large cast iron stockpot may be too heavy for a small or elderly person to handle. Some stainless steel stockpots are made with a layer of aluminum inside which also helps to cook evenly and avoid scorching.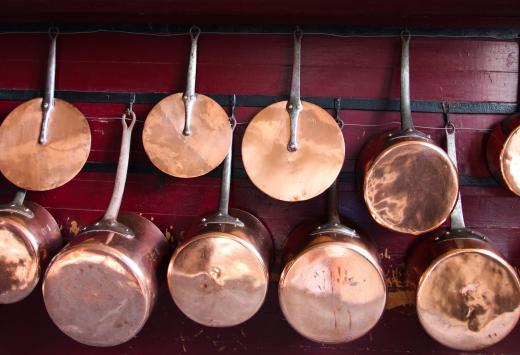 A good stockpot can be used for much more than soups and sauces. It is a good choice for boiling pasta, corn on the cob, or lobster or for braising large pieces of meat. A large stockpot can also be used for home canning with the water bath method. A rack can be placed inside to hold canning jars to keep them in place so they do not break.
AS FEATURED ON:
AS FEATURED ON:








By: karandaev

Stock pots are usually used to make soup due to their large size.

By: akulamatiau

Copper cookware is usually expensive, but professional chefs value it for its quality.

By: Jasmin Merdan

Stock pots can hold up to 20 quarts of food.

By: fkruger

Stockpots are designed to make large amounts of soup stock.

By: Michael Flippo

Pots made from aluminum tend to be less expensive than others.