What are the Different Types of Enamel Pots?
There are enamel pots in all shapes and sizes that are meant for use in various cooking techniques, most of which are made out of steel that has been covered in enamel or cast iron that has been covered in enamel. The weight of enamel pots varies quite a bit, depending in the materials that are used to construct them. Stainless steel pots that are covered in enamel are light and often used by people who are backpacking or camping. Enamel pots that are made with cast iron, on the other hand, are quite heavy. Enamel pots often come in vibrant colors such as cherry red, grass green, and cerulean.
Enamel pots can be purchased as sets or individually. A standard set of pots, whether they are made with cast iron or steel, usually includes a stock pot, a sauce pan, a saute pan, and a skillet. Sometimes these sets come with multiple sauce pans and skillets of various sizes. Depending on the design of the pot and the standards of the manufacturer, the pot may have a lid that matches the pot or a glass lid.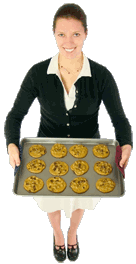 There are a number of types of enamel pots that are meant for use in ovens. These pots, which are usually made out of cast iron instead of enamel, include cocottes, casseroles, and French ovens, which are also sometimes referred to as "Dutch ovens." These sorts of pots always have thick lids that match the construction of the pot. This allows for even heat distribution to the food inside the pot, which is important for meals and dishes that are being prepared in an oven. French ovens can also be used directly on the stovetop, which is useful for people who have access to a stove but not an oven.
When choosing between enamel pots, it is important to consider their handles. Pots that are meant to be used in the oven usually have enamel handles that match the rest of the pot. This means that they must be handled with care while wearing oven mitts. For pots that will be used on the stovetop, it may be best to choose enamel pots that have handles made out of a material that does not transmit heat. There are various kinds of enamel pots that have these sorts of handles.
AS FEATURED ON:
AS FEATURED ON:








Woman baking cookies