What are the Different Types of Hot Sauces?
"Hot sauce" as a specific term refers to liquids used as food flavoring which are made using a chile pepper and vinegar. More generally, the term is used to refer to any flavoring for food that adds spice to the meal.
There are thousands of brands of hot sauce, made from a wide array of chiles, spanning a range of hotness. In recent years it has become trendy for companies specializing in hot sauce to advertise their product as virtually "too hot to eat," playing on a desire by many to consume the hottest possible hot sauces.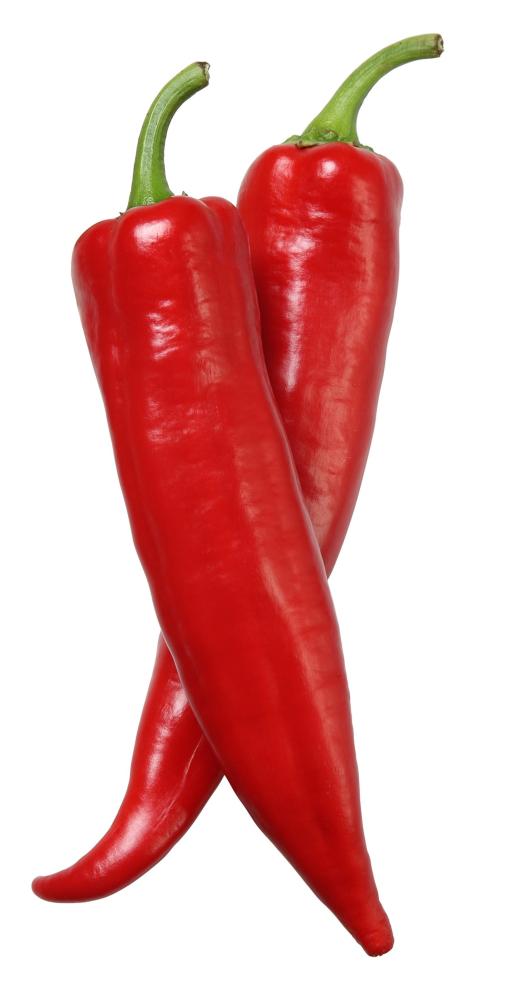 The spiciness of a hot sauce is determined by the Scoville Heat Unit scale, measuring the levels of capsaicin, the chemical that lends chile peppers their hotness. This scale measures how many times an extract of the pepper must be diluted in sugar water before it is undetectable to a neutral taster. The pure chemical of capsaicin has a rating of 15,000,000, while sweet bell peppers are listed at zero.
Tabasco™ sauce is among the world's most popular hot sauces. It is a relatively mild hot sauce, with the original variety having a rating of 2,500-5,000 on the Scoville scale. Tabasco™ also puts out a number of other hot sauces, including a mild green version which has a rating of 600-1,200 Scoville Heat Units. Tabasco™ sauce has been produced since 1868, and has since become a world-wide phenomenon.
Aside from the more widely produced sauces, Thai peppers, the most common pepper in extremely spicy Asian hot sauces, have a Scoville rating of 50,000-100,000, or ten to twenty times that of Tabasco™ sauce. Even the spiciest of Tabasco™ sauces, made from habanero peppers, is only 7,000-8,000 Scoville Heat Units.
Many people also use horseradish to add spiciness to dishes. Wasabi is the most popular hot sauce made from horseradish. While the active ingredient in wasabi is not capsaicin, as in chile-based hot sauces, the sensation is very similar in many ways. The heat can be very intense, and often localizes in the nasal cavities, but in general it fades much more quickly than the heat from chile peppers.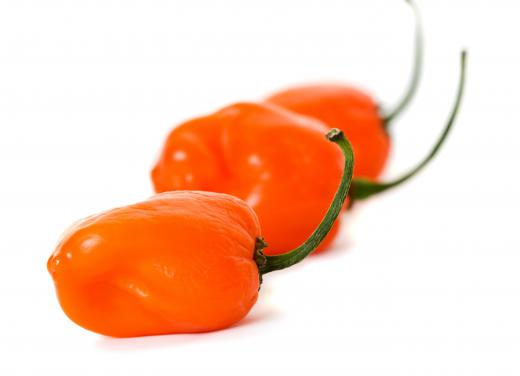 The flavors found in hot sauces vary as greatly as the spiciness, dependent on the variety of pepper used, but also influenced by how the peppers are prepared beforehand. A common example of this is the chipotle flavor found in many hot sauces, which is created by smoking the jalapeño peppers first. The addition of other vegetables, such as tomatoes or onions, also affects the flavor in hot sauces, and is a technique used in many Mexican salsas.
In the past ten years a large number of small manufacturers have begun producing extremely spicy hot sauces. Their names reflect their incredible heat. These hot sauces can range from the very spicy--90,000 Scoville Heat Units in one case--to far beyond what should be consumed in an undiluted form. One such sauce has a Scoville rating of over 7,000,000 or nearly one-half the strength of pure capsaicin. To put this in perspective, the defensive weapon, pepper spray, is made from capsaicin, with a common Scoville Heat Unit rating of about 2,000,000.
AS FEATURED ON:
AS FEATURED ON:








Chili peppers, which are often used to make hot sauce.

By: artjazz

A cayenne pepper, which is included in some hot sauces.

By: ZIQUIU

Many hot sauces have chipotle pepper flavoring.

By: Brenda Carson

Habanero peppers are used to make particularly hot sauces.

By: matin

Wasabi is a popular hot sauce made from horseradish.

By: JJAVA

Incendiary habanero chiles are often used to add heat to salsas.

By: Kybele

Hot sauces may be used in cooking chicken wings.