What Are the Different Types of Italian Appetizers?
Italian cuisine has been known to captivate diners around the world with the sights, smells and tastes of its dishes. While main-course Italian dishes may often overshadow their lighter counterparts, traditional Italian appetizers increasingly have developed their own fan base. Italian appetizers typically consist of cured meats and cheeses, along with various types of vegetables. This course is usually served cold and may be accompanied by bread and olive oil. Some non-traditional Italian-style appetizers include fried cheeses, seafood, pasta salads and several kinds of dip.
In Italy, the first course of a meal is known as antipasto and consists of small servings of meats, cheeses and vegetables. While the kinds of items being served vary depending on the region and time of year, many antipasto platters feature fresh mozzarella cheese along with cured meats such as pepperoni and prosciutto. The types of vegetables may include olives, artichoke hearts and sweet peppers known as pepperoncini.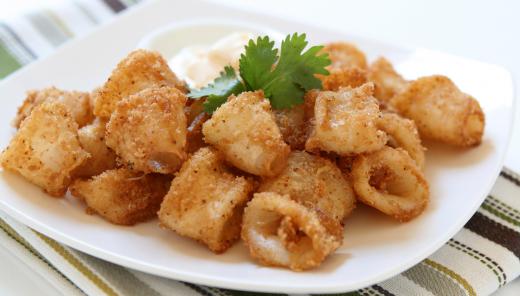 This course also may feature different styles of Italian bread served with olive oil for dipping or topped with various types of food. Bruschetta is one of the more well-known Italian appetizers and consists of a piece of toasted bread seasoned with garlic and olive oil. Bruschetta is often topped with chopped tomato and red pepper. Other recipes call for meat and cheese toppings or whatever vegetables the cook has on hand. Bruschetta has become a popular food outside Italy and is usually eaten before meals or as a snack.
Another Italian appetizer that has gained widespread popularity outside the region is caprese. Caprese is a salad consisting of sliced tomatoes, mozzarella cheese and basil, typically dressed with olive oil. This appetizer can be served by itself or on top of grilled flatbread.
Calamari is a more exotic Mediterranean dish that is often listed as one of the Italian appetizers in restaurants. For this dish, a squid is chopped, the pieces dipped in batter and deep fried. In Italy, it may be served with only salt and lemon on the side. In the United States, it is often accompanied by a dipping sauce.
Some U.S. restaurants have developed Italian-style appetizers that blend traditional ingredients with new preparation methods. Fried cheese sticks typically feature breaded and fried mozzarella cheese served with a dipping sauce. Toasted ravioli also is becoming increasingly easy to find. Many other Americanized Italian appetizers can be found on menus and in grocery stores.
AS FEATURED ON:
AS FEATURED ON:








Fried calamari.

Classic antipasto platter including sliced prosciutto and salami along with olives and assorted varieties of cheese.

Ciabatta rolls.

An appetizer with cream cheese, tomato, olive, and basil.

Shrimp appetizers.

By: haru

A caprese salad.

By: photocrew

Tomato and pepper bruschetta.

By: travis manley

Pepperoncini are often served in antipasto.

By: margo555

Olive oil is used to make caprese salad and other Italian appetizers.

By: umberto leporini

Italian appetizers typically include cured meats.

By: Silken Photography

Bruschetta salad with fresh basil and diced tomatoes.

By: .shock

An antipasto plate might feature various meats, cheeses, and breads.