Calamari is the Italian word for "squid" and is commonly used to describe a number of dishes that feature this sea animal. In the United States the term is most frequently associated with fried presentations, though this is by no means the only appropriate use. Many restaurants in North America and Europe choose to call squid "calamari" no matter how it is prepared as a way of making it seem fancier or more exotic.
Fried Squid Dishes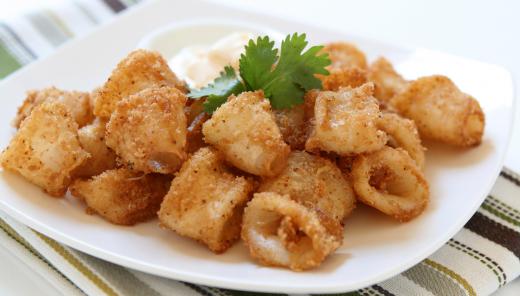 Fried calamari is one of the most popular preparations, and is what many people think of when they hear the term. Most dishes of this type focus almost exclusively on the animal's tentacles; chefs will slice them to form rings, then dip them in a batter of herbs, breadcrumbs, or spices before frying them in oil or fat. This sort of presentation is believed to have originated along the Mediterranean coast of Europe, but is a common appetizer in many parts of the world. In much of North America it has become synonymous with what "calamari" is or should be.
Cooks can have a lot of fun with this type of squid dish, and often come up with unique flavor combinations and twists. The rings can be battered with things like shredded coconut to give a tropical taste, for instance, or they can be served alongside dipping sauces featuring flavors like chili pepper or pesto. Many Italian restaurants will serve fried squid with marinara sauce or topped with Parmesan cheese.
Other Preparations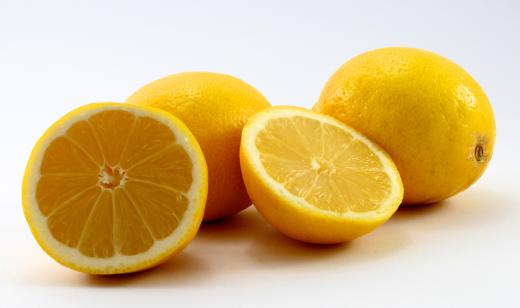 Virtually any type of squid presentation can properly be called "calamari," which means that people hoping to get a fried platter must usually read the menu carefully, else ask a waiter or cook for more details on what exactly is meant by the term. Many pasta and paella dishes feature squid that has been grilled or steamed, and baked stuffed squid is a delicacy in many Mediterranean cultures.
More than just the squid's tentacles are edible, and many calamari presentations make use of the animal's firmer body or head. Squid ink can be used to color and flavor fragrant sauces and marinades, and the animal's internal organs are sometimes included in the final presentation as well. Squid feature somehow in the cuisine of almost every country or society with a seacoast, which makes for tremendous variety. Some of the best-known recipes come from the Mediterranean, particularly Spain and Italy, but the animals are an important part of many Asian and Latin American cuisines, too.
Raw Squid Controversy
Some dishes feature uncooked squid, which is controversial in many places. Many traditional Japanese and Korean meals center on raw cuts, usually served alongside rice or atop salads. Larger animals are often sliced and sometimes marinated for flavor, whereas smaller creatures may be simply skewered and eaten mostly whole — the tough fins and ink glands are typically removed first, but nearly everything else is edible. A number of Scandinavian recipes also call for uncooked squid, particularly the tentacles.
Seafood connoisseurs often argue that raw preparations are best able to capture the true "essence" of the meat, and many argue that cooking and frying destroys essential characteristics. Squid is generally very delicate, and its flavor can be overpowered; at the same time, though, eating it raw can present a range of health concerns. Squid are not usually considered toxic, but their ink can, in some cases, cause intense illness if consumed straight from the animal. Uncooked squid is also more likely to harbor harmful bacteria, particularly if it has been stored for any length of time before serving.
Nutritional Information
On its own, squid is typically a very healthful food. It is low in calories and free of saturated fats; it also contains a number of helpful omega-3 fatty acids, which are believed by many to improve overall health and reduce the risk of certain cardiovascular disorders like heart attacks. The tentacles typically contain fewer nutrients than the body, but both are generally high in protein and vitamin B12. Cholesterol can be a concern, though; most squid have relatively high levels, which can be easily exacerbated depending on presentation and cooking method.
In general, grilling and steaming are the best ways to prepare squid so as to preserve its health benefits. Soaking the animal in different sauces or frying it in oil or fat can add calories and in some cases even leach out vitamins and minerals. When thinking about nutrition diners should be sure to consider the meal in full, as accompaniments like creamy pastas or starch-heavy batters can overshadow the benefits.
Allergy Risk
Squid are in the cephalopod family, which means that they are not related to most shellfish. Just the same, many people who suffer from shellfish allergies find that they cannot eat squid either. A lot of this has to do with the chemical makeup of the animal. Even people who can eat things like scallops and shrimp may find that they cannot tolerate calamari if they have more specific allergies. Signs of a negative reaction include skin rashes, extreme nausea, and difficulty breathing, and these symptoms often get progressively worse with exposure. People who typically have trouble eating seafood or who feel unwell after consuming squid should talk to a medical professional before making calamari a regular part of their diets.
AS FEATURED ON:
AS FEATURED ON:








Fried calamari.

Fresh squid used for calamari.

By: Britta Laser

Lemons, which are usually served with calamari.

By: Elenathewise

Fried calamari is often topped with Parmesan cheese.

By: juliedeshaies

Fried calimari is often served with marinara sauce.

By: Vidady

Breadcrumbs are used to coat calamari prior to frying.

By: hiphoto39

The serving of raw squid is controversial.

By: margo555

Many restaurants call any meal that includes squid "calamari" to sound more fancy.