What Are the Different Types of Low-Calorie Pasta?
Low-calorie pasta noodles can range from spaghetti to ravioli, but the important factor is the ingredients. Ingredients such as whole-wheat, semolina, and soy flour are healthier choices and supply fewer calories or kilojoules than just the starchy white flour. Noodles can be made either with or without eggs; of course, pasta made without eggs generally contains fewer calories or kilojoules than those with eggs.
To substitute the moisture eggs give to the noodles, many people use vegetable purees, adding a splash of color to the pasta without the calories or kilojoules. Spinach is probably the most popular ingredient, giving the noodles a greenish tint. Squash and pumpkin are also used, as well as beetroot that creates a pinkish color in the pasta.
As for the dishes, the different types of low-calorie pasta are those that veer towards being vegetarian dishes. Pasta dishes made with fish and other seafood are also more likely to contain fewer calories or kilojoules than other meat pasta dishes, such as with chicken and beef. Low-calorie pasta meals also tend to have sauces that are tomato- or olive oil-based. This is because cream sauces are generally made with high-calorie ingredients like milk and butter. Dishes with fewer ingredients will also contain fewer calories or kilojoules.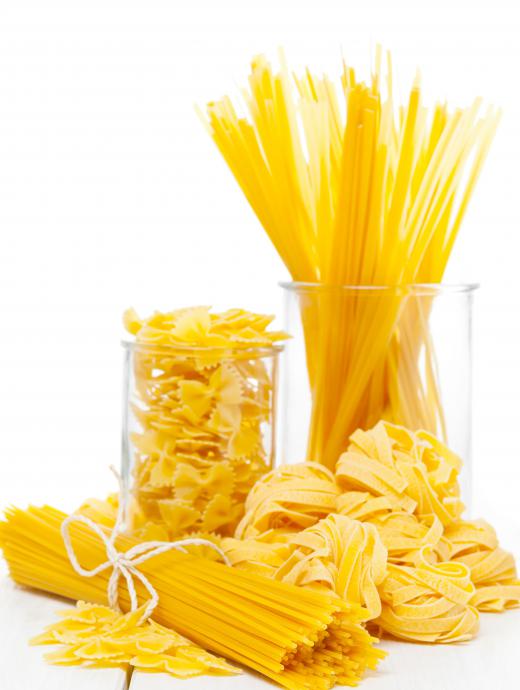 One example of a simple low-calorie pasta is the "spaghettini aglio e olio." This dish only has two primary ingredients: the aglio, which is the garlic, and the olio, the olive oil. The spaghettini, on the other hand, is the thinner version of the classic spaghetti pasta. Some spices such as basil and thyme can be added for some flavor, while chili flakes or cayenne pepper can be sprinkled on top of the dish for a little more kick.
Pasta arabiata is another low-calorie pasta meal that has more color and flavor. It has a tomato-based sauce, added with some garlic and onion to taste. Italians prefer to use the penne pasta for this dish, as the pasta's shape makes it ideal to hold the sauce. For a fresher and healthier pasta arabiata, fresh tomatoes can be used to make the sauce from scratch.
One cream-based dish that can be a low-calorie pasta snack is the pasta primavera. Usually, this dish uses any green vegetables available in the springtime. These veggies can include asparagus, broccoli, fennel, and green peas. The ingredients of the sauce can be made with healthier ingredients like cheese and sour cream, instead of milk and butter.
AS FEATURED ON:
AS FEATURED ON:








By: Natika

Fresh basil leaves are often used to season pasta dishes and don't really add any calories.

By: Shawn Hempel

The ingredients in pasta can make a big difference in the calorie count of the dish.

By: Wolna

Beetroot can be used to make low-calorie pasta.

By: Dusan Kostic

Top pasta with diced tomatoes for a low-calorie sauce.

By: sommai

Low-calorie pastas do not contain large amounts of butter or related fats.