Aglio e olio is a conventional Italian pasta dish that is frequently associated with rural home-style cooking, also known as cucina rustica. The sauce recipe has several variations, but all versions include olive oil (olio), garlic (aglio) and cheese. It is traditionally served over long pasta such as spaghetti, vermicelli, angel hair, fettuccine or linguine.
Although the history of aglio e olio varies depending on the source of the information, its origins are often traced to the Italian region of Abruzzo. An isolated vicinity about 50 miles (about 80 km) east of Rome, Abruzzo was once distinguished by its underdevelopment and poverty. In the past few decades, however, the region has experienced significant growth and is currently considered one of the most thriving areas in the country.
The basic sauce recipe calls for minced or pressed garlic to be gently sautéed in olive oil until it is barely crisp. Cooks are cautioned in most recipes to take care not to burn the garlic, which makes it bitter and generally inedible. The oil and garlic combination is traditionally tossed with grated hard cheese, such as Romano or Parmesan, and long pasta. The choice of long pasta is attributed in some historical accounts to the fact that long pastas could be more easily made in countrified home kitchens than fancier short pastas.
Variations on the aglio e olio recipe normally include adding a few simple ingredients to the original sauce recipe. Some instructions for cooking the dish suggest the addition of hot pepper flakes, the seeds found inside dried red chili peppers. Other recipes recommend adding finely chopped Italian parsley leaves to the dish for flavor and color. For even more color and substance, some cooks add chopped fresh tomatoes to the oil and garlic mixture and let the flavors marry for a few minutes. To make the dish alla Milanese, referring to the Italian city of Milan, breadcrumbs are added during the last minutes of cooking the garlic to become crisp and add texture to the sauce.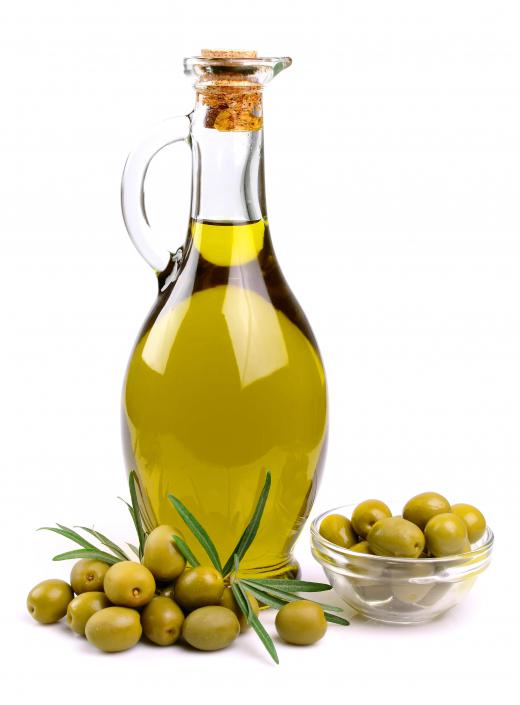 Since it is still generally perceived as a low-level peasant dish, aglio e olio is rarely found on the menus of Italian restaurants. It is still considered a staple in many Southern Italian homes, where it is often chosen as a quick, satisfying meal or snack. Often hailed as a comfort food, legendary tales also frequently portray aglio e olio as a digestive aid. It is reportedly served at the end of all meals at one Naples eatery to help diners digest their entrees.
AS FEATURED ON:
AS FEATURED ON:








By: Bert Folsom

Many recipes for aglio e olio include Parmesan cheese.

By: Barbara Pheby

Some recipes for Aglio e Olio call for adding chopped parsley.

By: margo555

All versions of aglio e olio contain olive oil.