What Are the Different Types of Rice Cooker Parts?
The main types of rice cooker parts include electrical, sensor, controls and containment components, which vary in complexity depending on the functionality desired from the cooker. All of these components work together, with the controls dictating how and when the cooker should run, the sensor detecting temperature and completeness of cooking, the electrical components providing the current necessary for heat, and containment components holding in the food and moisture. Peripheral components allow the cooking of foods other than rice.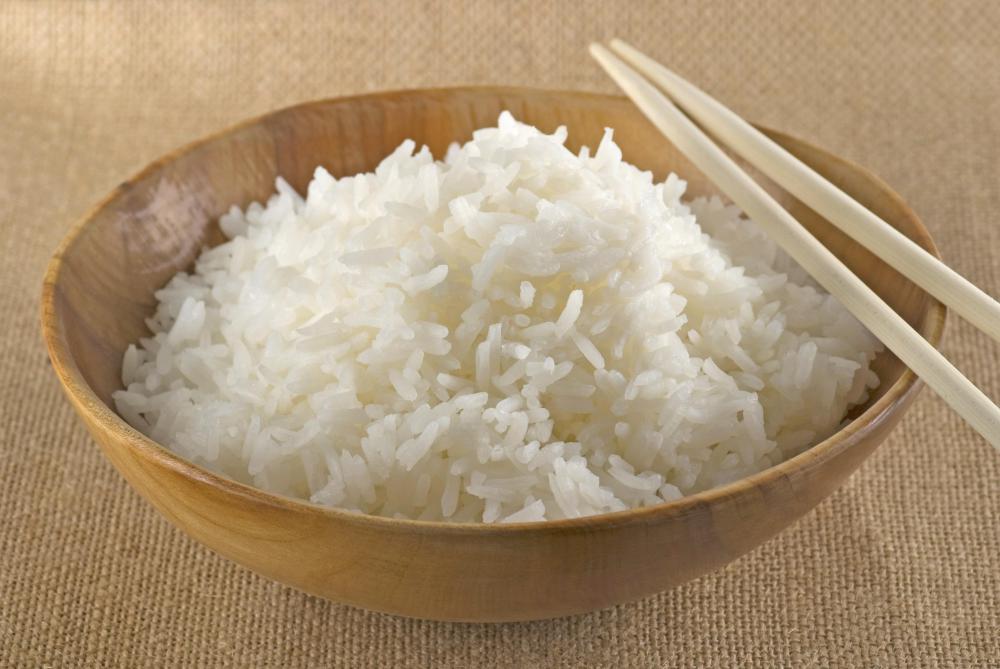 Arguably, the most important of the rice cooker parts is the electrical components, which are always encased in or connected to the outside shell of the cooker. The primary electrical part is the cord that connects the cooker to the wall outlet. In simple cookers, this connects directly to a heating element that sits underneath the pan. In more advanced cookers, it also connects to a computer microcircuit board that connects to the cooker's controls. It also may connect to elements that help generate a magnetic field, a byproduct of which is heat.
Rice cooker parts also include sensors. These are designed to detect that something actually in the cooker via weight, monitor the temperature of the water within the cooker, and to shut off the cooker or change it onto a "warm" setting when the temperature in the cooker reaches 212° Fahrenheit (100 Celsius). This is the point where water boils and vaporizes, so if the temperature sensor detects that the temperature has exceeded 212° F, it "knows" all the water is gone and that the rice is cooked.
Controls also are major rice cooker parts. The simplest of these is a basic lever system on the outside of the shell. The user depresses the lever to turn the cooker on. When the cooker's sensor detects heat above 212° F, the lever flips to "warm." Advanced cookers have knobs or buttons connected to programmable computer chips that can make extremely fine adjustments to temperature or cooking time, and which allow options such as delayed starting.
Another type of rice cooker parts contain the rice or moisture. The two main parts in this category are the cooker's inner shell or pan and the cooker lid. Inner shells can be made of various materials such as aluminum or ceramic, which affects how evenly heat is distributed and the ease of cleaning. Cooker lids are often separate parts made of glass, but they sometimes are attached to the main cooker shell via a spring mechanism and are of the same material as the shell body.
Some rice cookers include peripheral components such as baskets or racks. These parts usually are of metal and allow the user to cook foods aside from rice in the unit. One of the most popular options is using these parts to steam vegetables. All but the smallest and most basic rice cookers typically have these extras.