What Are the Different Ways of Cooking Chicken Legs?
Chicken is a versatile meat source, especially since it can be cooked whole or in pieces. Aside from the breast, the second most popular piece of chicken is the leg. While chicken legs do not provide as much meat as the breast, they are meatier than the thigh or wing and chicken legs can be prepared a number of ways. The chosen method of cooking chicken legs depends on the desired flavor and nutritional outcomes.
When it comes to flavor, perhaps the most favored method of cooking chicken legs is frying. Frying is also the unhealthiest method of cooking chicken, due to the oil. The fat from oil can be reduced by frying in chicken in liquid oil rather than solid shortening and by choosing a cooking oil low in saturated fats. Another option is to oven "fry" the chicken using a prepared oven mix or making your own.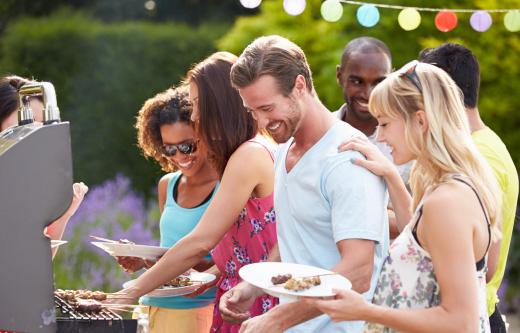 An equally tasty method of cooking chicken legs is grilling. Grilling is a healthier option and most any flavor can be added by either marinating the chicken, preparing it with a spiced rub, or simply basting it with sauce while cooking. Larger chicken legs may need to be par-boiled prior to grilling to make the meat more tender and avoid drying out the meat – especially without basting. Experimenting with different barbecue, bourbon, or mustard-based sauces can help to create a variety of meal experiences.
If neither frying nor grilling is desired, another method of cooking chicken legs is to roast them. Roasting can be done in the oven or a roaster. If roasting in the oven, the meat will either need to be prepared with a liquid for occasional basting or covered with foil or a roasting bag to avoid over-drying. Roasted chicken is often preferred as a lower-calorie and reduced fat method of cooking chicken. To further reduce the calorie and fat content, remove the skin prior to cooking chicken legs.
An alternative similar to roasting is smoking, but a smoker is necessary. Some grills have this capability and wood chips that provide good flavor and aroma are widely available. Choose hardwoods or fruit and nut woods like hickory, maple or apple. Using soft woods like pine or cedar will infuse meat with bitter, tarry flavors that are undesirable.
Chicken is not always an easy meat to cook. When barbecued or smoked, it is not always possible to check for doneness by looking at the color. Cooking times and safe temperatures vary slightly depending on whether the chicken is whole and which pieces are being cooked. Cooking chicken legs to a minimum internal temperature of 180 degrees Fahrenheit (82.2 degrees Celsius) is necessary to kill potentially dangerous bacteria. When checking for food safety temperatures use a meat thermometer inserted through the thickest part against the innermost bone.
AS FEATURED ON:
AS FEATURED ON:








By: Monkey Business

Although the terms are often used interchangeably, barbecuing and grilling are two different methods used to cook chicken.

By: Werg

Use a meat thermometer to confirm that the chicken has reached an internal temperature of 180 degrees.